China's Good Samaritans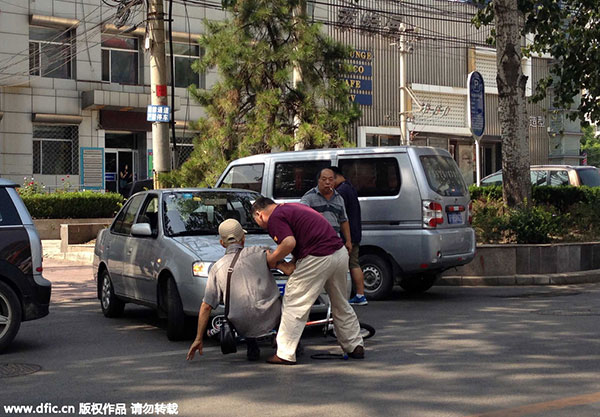 A passerby helps an old man hit by a car, in Beijing September 9, 2014 (Photo/IC)
Joseph Nye of Harvard University first coined the term "soft power" in his 1990 book, Bound to Lead: The Changing Nature of American Power.  He explored further the notion of soft power in his 2004 book, Soft Power: The Means to Success in World Politics, arguing: "A country may obtain the outcomes it wants in world politics because other countries – admiring its values, emulating its example, aspiring to its level of prosperity and openness – want to follow it. In this sense, it is also important to set the agenda and attract others in world politics, and not only to force them to change by threatening military force or economic sanctions.  This soft power – getting others to want the outcomes that you want – co-opts people rather than coerces them."
China rightly deserves any soft power emanating from its ability to pull millions out of poverty, and the example Beijing is setting in renewable energy and electric cars is laudable.  But there is still work to be done – one such area is the scarcity of good Samaritan behavior.
Good Samaritans, those who help people on the spur of the moment, are unfortunately a rare species in China.   The name comes from the parable of the Good Samaritan, as told by Jesus in the Bible of a traveler who is stripped of clothing, beaten, and left half dead alongside the road. A priest and then a Levite both pass and avoid the man, until a Samaritan stops to help.  Some European countries, such as France and Germany, have Good Samaritan laws which impose a duty on citizens to intervene with assistance for those in need.   
Yet in China there is little trust between strangers, with many citizens justly fearing being blackmailed by fraudsters, or sued in court for aggravating the injuries of victims.  Most Chinese are familiar with at least one legal case where those who tried to help were successfully sued by the victim for either causing injury or creating the incident.  In 2006, a Nanjing man was ordered to pay 40 percent of an elderly woman's medical bill after she broke her leg – on the presumption he must have been guilty to have helped her.  Another man committed suicide after being found guilty of knocking down a senior citizen in south China's Guangdong Province in 2014.  During my six years in Shanghai, I was often advised by Chinese friends to not interfere in "local matters" and once saw a man jump into the side of a car, an act I was told was an oft-employed effort to collect compensation from the driver, usually decided on the spot after any vehicle accident.
I left China in 2012 for a number of reasons, but my decision was sealed after watching a surveillance video on YouTube showing a two-year-old girl named Yueyue being consecutively run over by a van and a light-duty truck in Foshan a year earlier.  Some 18 passersby were taped walking past the girl without offering help.  The girl died later after days of medical treatment.  The driver later told the China Daily "If she is dead, I may pay only about 20,000 yuan ($3,180).  But if she is injured, it may cost me hundreds of thousands of yuan."  In April 2017, a woman crossing the street in Henan province was hit by a taxi which didn't stop and was run over again by a SUV, while pedestrians witnessing the incident kept walking.  
So it comes with some relief the recent announcement of China's Good Samaritan law, which went into effect on October 1, China's National Day, which provides protection to those who voluntarily offer emergency assistance to victims who are, or who they believe to be, injured, ill, in danger, or otherwise incapacitated, ensuring that they will not be held civilly liable in the event that they harm the person they are trying to save, according to China's official Xinhua news agency.
While it is true that rescuers could cause more damage to those already injured, just walking by without doing anything was never the proper response.  There are usually enough witnesses around at anytime in China who could vouch for the innocence of those accused good Samaritans.  And professional rescue should be just a phone call away.  Here in Ho Chi Minh City, strangers will not hesitate to stop and rush to help those involved in the frequent accidents – which kill one person every hour in Vietnam.  With the new Good Samaritan law taking effect in China, we can hope the same attitude eventually prevails in China, and China can gain some soft power by leading from example.