In oligarchic Ukraine, Manafort is a symptom of a wider disease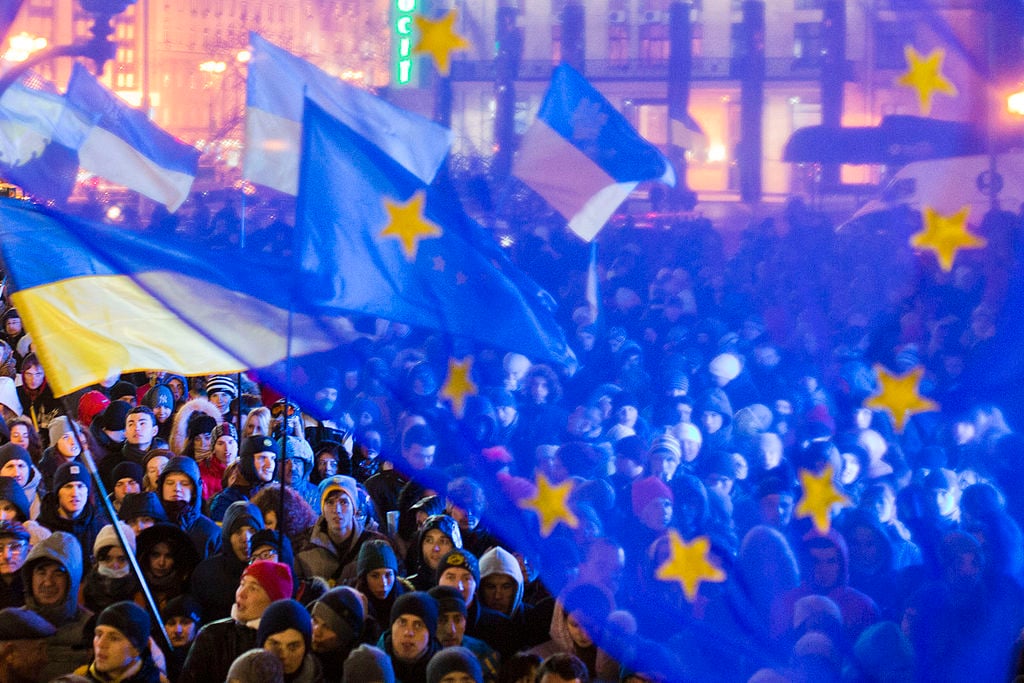 Nearly eclipsing the fourth anniversary of the beginning of the Euromaidan protests last Tuesday was the latest in the ongoing scandal surrounding former Trump campaign chairman Paul Manafort.
According to newly released records, the beleaguered political consultant traveled to Moscow at least 18 times during his nearly decade's worth of work for the pro-Russian politician Viktor Yanukovych, who was elected as president in 2010 and ousted in 2014. The revelations suggest his consulting and business activities were far more closely linked with Russia than he initially revealed.
Manafort has been the subject of intense scrutiny over his work for Yanukovych's Party of Regions, which culminated last month when a grand jury indicted him and his former colleague Rick Gates on a range of charges as part of FBI special counsel Robert Mueller's Russia probe. The political consultant has claimed that his work was intended to boost Ukraine's integration with Europe, but the flight records put the lie to a tale that was already hanging from a thread.
Meanwhile, as Washington focuses on Manafort's alleged ties with the Kremlin and Mueller's wider Russia investigation, Ukrainians are wondering what the Manafort affair means for the prospect of eventually rooting out political corruption in their own country. And even if the writing's on the wall, Kiev doesn't seem to be in a hurry.
Revelations of Manafort's skullduggery – not least the estimated $17 million he and his associates were paid by the Party of Regions – hits close to home for citizens in a country where the 50 richest own over 45% of GDP and that ranked 131st out of 176 countries in Transparency International's latest Corruption Perceptions Index. Even more frustrating for ordinary Ukrainians, despite promises by President Petro Poroshenko to root out corruption, he has, if anything, only helped cronyism become more entrenched.
Most recently, in response to the Manafort investigation, while government officials have said they are willing to assist US authorities, observers shouldn't hold their breaths. After all, even though the alleged wrongdoing occurred under the previous administration's watch, Poroshenko's government has a number of reasons to drag its feet. First, they are loath to derail relations with the White House by further delving into what is now a distinctly sore subject. But most importantly, Poroshenko and his allies worry that if the government opened up its own probe, this would have major consequences for Manafort's wider network of contacts, not least the oligarchs and crooked officials who still make up a broad swath of the current political elite.
As a result, the country's most powerful oligarchs are eager for the Manafort affair to blow over as soon as possible. These include men like the businessman Dmytro Firtash and the coal and metals tycoon Rinat Akhmetov, who rank among the wealthiest in the country and have a finger in nearly every pie – from the seats of parliament to the presidential palace to the country's biggest conglomerates. It was they who helped Yanukovych hire Manafort to begin with and drove his efforts to boost his reputation in the West. But embarrassingly for the current government, they still pull a considerable amount of political clout.
For instance, Firtash – the billionaire oligarch and Party of Regions funder – has close ties with Manafort, having worked with him in a failed effort to buy the Drake Hotel in New York for $850 million in 2008. He has also been accused of essentially overseeing the process by which Poroshenko became president, having helped to organize a summit between former boxer Vitali Klitschko and Poroshenko in 2014. According to allegations, Firtash helped convince Klitschko to run for mayor of Kiev instead of the presidency, in a deal that fueled fury in a country tired of major political decisions being turned into gentlemen's agreements.
Another oligarch who stands to suffer from a more in-depth investigation of Manafort's sordid past is Rinat Akhmetov, the man responsible for bringing the political consultant to Ukraine in the first place. Ukraine's wealthiest man, he is reported to have come out on top following a power struggle among organized crime groups in the 1990s over control for coal and metals assets in the former Soviet Union – assets that he has now organized under his holding company, System Capital Management (SCM).
While Akhmetov claims that he made his fortune thanks to wit and luck, the evidence suggests otherwise. Some claim that Akhmetov's first stroke of good fortune came in 1995, when his mentor, Akhat Bragin, was killed along with his bodyguards in a bombing. Later, during the Yanukovych era, Akhmetov exerted considerable power as a key Party of Regions funder. Not surprisingly, during those same years, his businesses boomed, adding an estimated $3 billion to his bank accounts in a matter of months. Of course, like many of his fellow oligarchs, Akhmetov recognizes the importance of staying on the good side of the government: after he realized where the winds were blowing in 2013, he, Firtash, and other oligarchs switched teams, beginning to openly support the Euromaidan.
The result is that Poroshenko's initial promises to enact a policy of "de-oligarchization" has ended in a coalition between the president and Akhmetov, the main heir of Ukraine's entrenched system in crony capitalism. Parts of the latter's hold over Ukraine's economy have started to crack, especially after a London court ordered Akhmetov to pay almost $800 million and settle the debts accrued after the purchase of the state telecom company Ukrtelecom in 2013.
Poroshenko – a political turncoat and tycoon in his own right – thus represents only the latest iteration of oligarchical government in a country that remains, as ever, firmly under the thumb of corrupt interests. Given the tycoons' enduring power and the government's slow-moving efforts to tackle corruption, then, we shouldn't be surprised if Kiev fails to use the Manafort affair as a catalyst for reforms. Yet the government's likely reluctance to further investigate Manafort's past – and his network of contacts with Ukraine's deep state – represents a huge loss for a country that only four years ago had such high hopes for a new chapter in the country's history.