Swarm drone attack in Syria points to new kind of warfare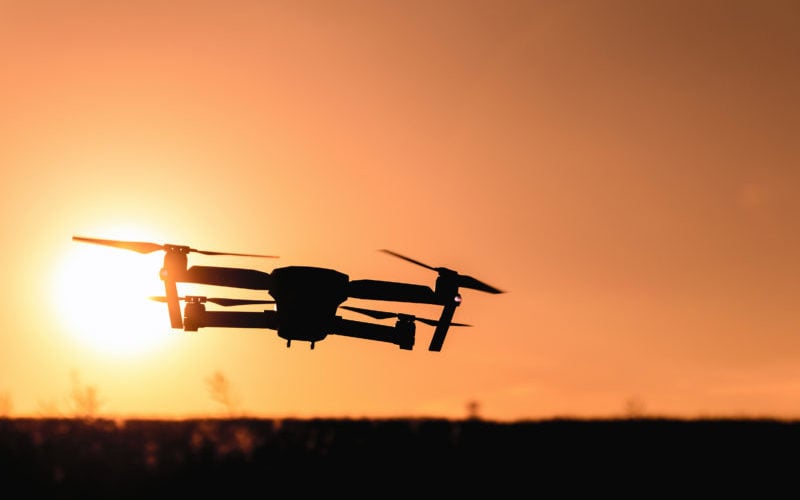 On 5 January, 2018, Russian forces stationed in Syria suffered what appears to be the first case of swarm drones attack in history. Despite the UAVs being of a rather crude nature, this episode constitutes a further development in non-state actors' use of UAVs. Additionally, allegations about the involvement of an external state actor spark considerations of UAV use in proxy wars.
Swarm drones – one of most significant emerging technologies of conflict – have already left a mark on the year 2018. While state actors have yet to deploy this technology in operational theatres, violent non-state actors have demonstrated more than a mere interest. As the recent attack on Russian military in Syria has shown, they have indeed acquired the necessary capabilities to carry out a synchronized attack on two different bases.
The alleged attack
On 5 January, two Russian military bases in Syria – the air base in Hmeymin and a logistic and supply base in Tartus – were allegedly attacked by a swarm of 13 GPS-guided drones armed with improvised explosives. Russian forces repelled the attack reporting no casualties. Reportedly, seven drones were blown up with anti-aircraft missile systems, while the other six were hacked by a cyberwarfare unit. Of those six, three of them exploded upon landing, whereas Russian forces retrieved the remaining three intact. As experts commented, despite being the attack itself not necessarily being spectacular by terrorist standards, this event heralds a near future where technologies like swarm drones will be increasingly employed by violent non-state actors and terrorist organizations.
The drones involved in this attack were homemade and quite rudimentary. As the pictures released by the Russian military seemingly show, the swarm was comprised of primitive-looking drones powered by a single propeller with no landing wheels. Also, the drones displayed few metal parts, being probably made mostly of wood and plastic components. However, the improvised explosives and rockets appear to be of advanced manufacture. What also made the swarm sophisticated was the GPS guidance system. Having decoded the data contained in the three retrieved drones, Russian experts were able to locate the launching site in an area controlled by rebels and approximately 50 km distant from the attacked bases. Moreover, it would appear as if the drones had an attack range of up to 100 km. As most homemade and commercial off-the-shelf drones have limited range amounting to few kilometres, these developments constitute a considerable leap from previous instances of non-state actors' use of UAVs.
Mystery surrounds the culprit
It has not been possible to determine which group is responsible for the attack so far, and as the sources of the information on the attack are Russian, it is difficult to confirm the veracity of the incident. Russian experts are blaming rebel groups active in the area of Idlib. Among the major groups active in this area, Ahrar al-Sham and Hayat Tahrir al-Sham – both Jihadist formations – were initially considered the main suspects. However, a previously unknown group called the "Free Alawite Movement" claimed to be behind the attack in a social media post. Alawites are a sect of Shia Islam, which counts Bashar al-Assad and the Syrian regime among its members. Therefore, it is puzzling that an Alawite group would claim responsibility for an attack against the Russian military – one of Assad's key allies.
The Russians allege that whoever is behind the attack has mastered a technology – the GPS guide system – that should be far beyond their capabilities and has, therefore, probably received support and guidance from an external actor.
"The programming of systems to control unmanned aerial vehicles and drop GPS-guided munitions requires completing engineering studies in a developed country."

Unnamed Russian official to TASS state-owned news agency
Though the Russian military never made an explicit connection to any country, the presence of a US P-8 Poseidon patrol plane in the area as the swarm drone attack occurred has been deemed suspicious.
UAVs as a new tool in proxy wars?
One of the main takeaways from the events here reported is that non-state actors deploying sophisticated emerging technology is less than a remote possibility at this point. Indeed, attacks such as the one in Syria are likely to happen more frequently and in a more sophisticated fashion in the near future.
Furthermore, concerns about UAVs being used as proxies cannot be easily dismissed. Far from attempting to confirm or deny the involvement of external actors in the attack on the Russian military in Syria – as there is, after all, no incontestable evidence for it – the possibility of state actors resorting to UAVs as proxies cannot be excluded in the future. More so, since some countries have actually already used UAVs as proxies to test the reaction time and capabilities of their adversaries: this is the case, for example, of Hezbollah probing Israeli defence with Iranian-made drones. In this instance, UAVs were employed by one of Iran's proxies, Hezbollah. Alternatively, they could be covertly operated directly by a state-actor in order to test an opponent's defence, gain useful intelligence, or even carry out limited strikes. In any case, more sophisticated UAVs attacks – whether in swarming or single formations – are most likely going to occur before long on a larger scale both in operational theatres and beyond. The potential involvement of state actors resorting to UAVs as proxies may contribute to significantly augmenting violent non-state actors' capabilities in this regard.
—
This article originally appeared on Global Risk Insights and was written by Mauro Lubrano.