Can the Balkans get serious about tackling crime?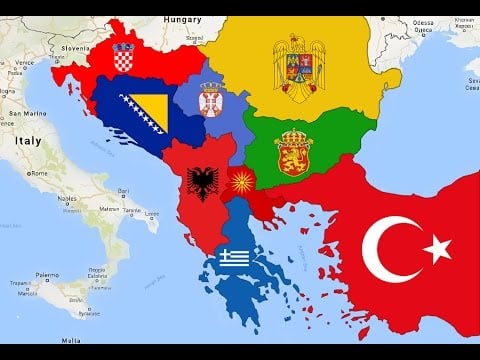 The New Year didn't bring any respite for Albania's beleaguered government as January saw the renewal of public protests with tens of thousands descending on capital Tirana, demanding the resignation of Prime Minister Edi Rama over his alleged links to organized crime.
The leader of the ruling Socialist Party has denied accusations of wrong-doing, although former minister Saimir Tahiri is currently under investigation for corruption and drug trafficking. Meanwhile, the opposition – led by the recently deposed, center-right Democratic Party – insists that cabinet members are exploiting their position for personal gain, while ordinary citizens struggle to survive on a few hundred euros a month in one of Europe's poorest nations.
Unfortunately, the political elite's tendency to benefit from corruption and collusion with organized crime groups is a pattern across the region – one that the EU has made clear it won't ignore as it starts to devote renewed attention to the Western Balkans' membership drive.  Indeed, just this week, the European Commission released a new regional strategy, saying that Montenegro and Serbia could be ready to join the bloc by 2025 and extending support to Albania and the three other aspiring members in the region. However, the Commission emphasized that lawmakers in all six countries will need to show real results in addressing persistent issues of crime, corruption, and patchy rule of law if they want to move forward.
Albania: Europe's cannabis capital
The surging lawlessness in Albania was largely the result of the violent transition from Soviet state to self-ruling economy in the 1990s, which in turn led to the unchecked growth of organized crime groups. The country has since become a point of entry for drugs being smuggled into the EU and its home-grown, if illegal, cannabis trade has long been ignored by politicians who haven't had the political will to tackle the gangs who profit from its continuance.
To be fair, the government can claim some success. In 2014, a successful police operation focusing on drugs hub Lazarat in southern Albania saw the arrest of more than 100 people, the seizure of cash and hashish and the closure of a number of illegal labs. However, no gang bosses were arrested, leading some to speculate that they were enjoying the benefit of high-level political protection. It's also worth noting that the raid had the knock-on effect of stabilizing drug prices in the region which had been on the point of collapse.
Former Prime Minister Sali Berisha has admitted that it was unofficial government strategy during his administration to turn a blind eye to the processing and distribution of illegal drugs from Lazarat, as it enabled them to contain cannabis production, while underpinning claims that progress against drug smuggling was being made.
A Balkan-wide struggle
It's a comparably dismal state of affairs in neighboring Montenegro, which has an ambitious EU accession target date of 2025 but where the escalating violence by criminal gangs has led to accusations of tacit government collusion. Police have stepped up patrols in Podgorica and Kotor following a string of clashes between rival Montenegrin gangs over the past year, but few arrests have been made. The towns have long been favored by criminal groups, most famously by drug baron Darko Saric – who was jailed in 2015 for smuggling cocaine from South America with a number of co-defendants, many of whom are still on the run. Gang warfare has also spilled over into Serbia, where it's alleged that gang members with Serbian citizenship are also receiving support from people in positions of power.
Unfortunately, there is little hope for change with the expected return of strongman politician and former prime minister Milo Djukanovic to power following presidential elections slated for this April.  He bowed out of politics after the 2016 elections, yet over the past 25+ years he has twice before quit public office while maintaining considerable political influence. It is easy to see why, given the evidence that he has used his time in power to build lucrative ties with organized crime groups and to enrich his own associates.
EU membership no panacea
Even existing EU member states in the Balkans have been unable to shake off accusations of corruption and links with organized crime, notably in Romania. A new government was recently formed under the leadership of the country's first female prime minister, Viorica Dancila, but it's feared that little will change in the immediate future.
Although pledging to reduce bureaucracy and increase wages – as well as fast-tracking the construction of an extensive new road and rail system – Dancila supports proposals introduced by the ruling Social Democratic (PSD) party designed to make it harder to prosecute corruption and over which the European Commission (EC) has expressed concerns. The policies have already triggered mass protests in Bucharest.
Dancila is the third Romanian premier in seven months and is seen by some as prime minister in name only, with PSD chairman Liviu Dragnea calling the shots from behind the scenes as he is prohibited from taking office due to a conviction for vote-rigging. Dancila will have her work cut out convincing the public (and the EC) that her government is committed to fighting corruption given that five cabinet members are the subjects of current corruption investigations.
With the EU intimating the possibility of accession talks in mid-2018, Albania has begun efforts to clean up its act. These include the recent firing of the national police chief, Haki Cako, under whose auspices cannabis cultivation actually increased – despite his assertions that his force had 'uprooted' cannabis all over Albania.
Nevertheless, with Brussels getting tough about requirements for would-be joiners, it remains to be seen whether Albania's attempts to address the country's deeply entrenched criminality will bear fruit in the form of coveted EU membership.