The ascent of the dragon continues – Implications for global politics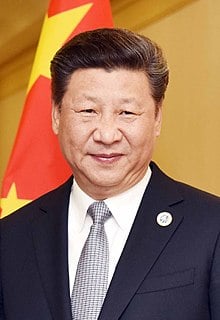 The National People's Congress meeting that kicked off on March 5 has ushered in some revolutionary stances . From the constitutional amendment to the two-term limit that was proposed by the Communist party on February 25 , the prospect of the abolition of the term limits looms large on the horizon. This indicates that the Chinese President Xi Jinping could stay on indefinitely beyond the expiration of his term in 2023. Such an act entails the continuity of Xi Jinping's leadership which gives him greater control over the levers of power and money that underscores Xi's standing as China's most dominant political figure in decades . The move represents a dramatic departure from the rules and norms that nudges the country towards a kind of centralisation of power where China's state-controlled media have sought to justify the move as one that guarantees stable leadership as China enters a period which Xi has identified as crucial in his vision to restore the country to its rightful place as a global power.'
The removal of term limits that was long the topic of speculation in the lead up to the 19th Party Congress is nevertheless audacious . From having his thought enshrined in the Constitution in a way that was only done by Mao Zedong previously , his failure to identify a successor at the 19th party Congress in October ,Xi Jinping believes that there is no other leader who is capable of pushing and achieving his vison . Recognising the imperative to reform the Party and state institutions which forms an integral part of the socialist system with Chinese characteristics the Politburo maintained that reforms should be implemented to strengthen the Party leadership and fulfil the requirements of the new era .In this sense the Chinese Communist Party (CCP) set forward the agenda where the text mentions that the proposed two-term limit will be conducive to safeguarding the authority and the unified leadership of the CCP Central Committee with Comrade Xi Jinping as the core  and strengthen the leadership as China realised its major economic and social development goals under Jinping over the past five years .  This marks an end to institutionalised leadership that was put in place under Deng Xiaoping and makes all the talk about the rule of law under the party at the 18th Party Congress ' fourth plenum somewhat quaint in retrospect.
A recap of the past
Deng Xiaoping enacted China's term limit in 1982 during his tenure as China's paramount leader in the 80's as part of his effort to ensure that China was never  again subjected to a crushing dictatorship like that of Chairman Mao and the turmoil it occasioned. Breaking from the West 's system of governance which constituted epithets like balance and checks, Deng instituted a form of governance with Chinese characteristics designed to prevent the recurrence of a cultish like obedience that was shown towards Mao during that time.
Jinping's quest to firm up China's presence in the world
 Prior to the elimination of the term limits the approval of the enshrining of Mr. Xi's eponymous political theory  Xi Jinping Thought for the New Era of Socialism with Chinese Special Characteristics  as a new component of the party's guide for action signifies that Xi is put on a doctrinal pedestal along with Mao and Deng which reaffirms that his reign would be supreme. Xi Jinping became the leader of China in 2012 where he espoused his Chinese doctrine of national rejuvenation. Since he assumed the mantle of leadership Jinping demonstrated that he is someone who does not shy away from breaking conventions . From methodically purging his potential rivals including Sun Zhengcai and Bo Xilai through anti-corruption campaign to assuming prominent positions related to military and national security Jinping is undertaking stronger stances to reframe the domestic structure of the country which reflects his overarching ambition to firm up his presence in the Communist Party. An appropriate instance includes Xi's attitude to use his first term in office to monopolize an array of leadership positions reflected in the creation of several so-called leading groups which he heads to drive policies across a range of areas including finance, cybersecurity and relations with Taiwan . Although Mr. Xi was already provided the title  guojiya zhuxi which can be translated as state chairman , it is clear through Xi's intention that he considers himself as  a transformational figure leading China and the party into new era when the Communist party conferred upon him the designation lingxiu or   China's core leader that placed him on the same pedestal as Mao, Deng Xioping and Jiang Zemin . This is commensurate with Jinping's position where he believes that it is only through attaining domestic stability and subsequently a stable relationship would be possible for China to reclaim its rightful place as a global power.
Apropos to Jinpin's political theory his ardent desire to restore China's eminence as a global power in the international arena got adequately reflected in  his statement at the historic 19th Communist Party Congress meeting. Outlining  two broader goals for China where first it will build a moderately prosperous society by 2020 and second  it will become a fully developed rich and powerful nation by 2050 , Jinping heralded the dawn of the new era of Chinese politics and power where the world witnessed Xi's waxing poetic about the priorities of rejuvenating Chinese power and realising the Chinese dream . Although Jinping majorly stressed on domestic achievements , goals and challenges but for any foreign policy geek with an insight into present Chinese policy making will understand that his speech provides crucial insights into how China's strongman leader seeks to advance his country's role in the world.
A major takeaway for global community is Xi is extremely confident in China's growing national power that has major implications for global politics . This was succinctly captured in Xi's statement where he proclaimed that our Party, our country , our forces and our nation have changed in ways without precedent. The Chinese nation with an entirely new posture now stands tall and firm in the East . Against this backdrop of growing Chinese interest under Jinping's leadership the assessment stands that the international community will face an increasingly assertive China . As was stated by a Beijing based political analyst right after the move to end term limits where he disclosed that  if we ' re beginning to see a much more aggressive international posture by china , expect more of that , turned upto 11  .
 The Chinese juggernaut rolls on
A corollary  of Jinping's fervent commitment to establish Chinese prominence is the retrenchment of the US noticeable through Mr . Trump's promise to Make America Great Again that smacks of a retreat into unilateralism which spells trouble for the fraying international liberal order. Two major instances in this regard include the evolving  Chinese maritime strategy where it has shifted from conducting coastal defense and near seas operations to far seas protection that underlie the expansion of China's naval capabilities through deployment and berthing facilities under its String of Pearls strategy in the Indo-Pacific and secondly its colossal One belt one road ' global infrastructure initiative.
A stark reminder of the China's increasingly expansive international agenda comprises of the recent phenomena of conclusion of the construction of the contested Spratly islands as part of its land reclamation activities . Through a host of installations which includes a ' 3 km long runway, large naval -grade berthing facilities and a range of military defences such as anti-aircraft guns and close -in weapons system (CIWS) ' reports on the built-up infrastructure in the islands suggest that the China has reclaimed almost seven  of the islands which houses surveillance measures. The reclaimed islands in the Spratleys are not merely fortified flag markers for China's claim for sovereignty in the disputed South china sea but  they serve as a network of platform that strengthens Chinese military capabilities and  significantly enhances China's projection of military power in the region.
Further on another accord through its Belt and Road initiative China under the garb of serving to enhance economic interconnectivity and facilitating development across regions including Eurasia, East Africa and more than 60 partner countries it is pursuing what analysts in the US has termed as a predatory economics. Through aggressively employing economic tools to advance its strategic interests Beijing has extended huge loans to financially weak states and ensnared in vicious debt traps that enhances its leverage . To exemplify of the 68 countries identified as potential borrowers in the BRI  23 were found to be  already at a quite high risk of debt distress  according to the Washington-based Centre for Global Development (CGD), a think tank. Moreover the report also determined that eight of those 23 countries would potentially face difficulties in servicing their debt because of future financing related to BRI projects that includes countries such as Djibouti, Kyrgyzstan, Laos , the Maldives, Mongolia, Montenegro, Pakistan and Tajikistan . This not  solely increases Beijing's economic clout in International politics but gives a clear signal about the principle that is guiding China's rise in global politics which is buying friendship through its economic heft. In other words co-opting countries to expand its sphere of influence both in Asia and the world .
What to do ?
Although reigning between the established superpower predominantly the US and rising power like China has not led to a full scale war yet the recent constitutional amendment poses an inflection point for liberal nations. From broadening its core interests by asserting sovereignty claims contrary to international law, continuing with its military expansive tendencies in the Indo-Pacific region , pursuing a predatory form of economics and colonial type exploitative policies in dealing with developing nations that are clear manifestations of Xi's growing thirst for power has raised the chance of devastating instability. A takeaway in regard to China's rise under Jining that despite there have been concerted attempts by nations in global platform to present initiatives like the Quad but to counteract the China's increasing belligerence both within Asia and the world the current trajectory shows that it is going to be a long winding road before these come to fruition .
Sreeja Kundu is presently a researcher working at the Strategic Studies Program in the Observer Research Foundation, a think tank based in New Delhi, India. She has graduated with an M.Sc in International Relations from the University of Bristol in November 2016. She tweets @SreejaKundu