Bangladeshi Hindu Human Rights Activist: "Muslims celebrate destruction of Hindu home"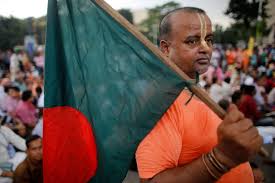 As we speak, the political situation in Bangladesh is deteriorating for the Hindu community. Millions of acres of Hindu land has been confiscated and redefined as enemy property. According to Shipan Kumer Basu, the President of the World Hindu Struggle Committee, "Local land grabber Manik Miah has occupied the properties of Ballabh Das in Majigacha village of Kachua Upazila in Chandpur district."
He claimed that 300 Muslims accompanied by musical instruments came in order to destroy the Ballabh Das family home: "They looted many goods such as cash, gold ornaments, silver ornaments, bronze, etc. Now, the family has no place to pass the night. They lost everything except the clothes on their backs. The family asked, why do we suffer such cruel attacks against us? We are Hindus. That is our only crime. Why can't we also live in an independent Bangladesh while Muslims are permitted to peacefully coexist with Hindus in India?"
According to Bangladesh Sishu Adhikar Forum (BSAF), between January and March of this year, over 55 Bangladeshi children were raped per month with 66 being raped in March alone. He claimed that of the 176 children that were raped over these past 3 months, 15 were between age 1 to 6 years of age and 37 were between 7 to 12 years of age. Although these statistics are low by American standards, Basu stated that these statistics on child rape exceed what existed in the past in the country, emphasizing that the rise of radical Islam in the Middle East has had an adverse effect on the situation in his country. He noted that the rate of Hindu girls who are raped is much higher than the official statistics for the general population and that the rape of Hindu women is generally not recorded in the official records.
"Rape is a heinous violent crime," the Bangladesh Minority Council noted. "It is used as a war tool through which the invaders subjugate and humiliate the conquered population. A judicial commission concluded that over 200 Hindu women were raped following the 2001 parliamentary election. Rape and other sexual violations of minor girls belonging to the Hindu community, mainly in rural areas, remain rampant. In the conservative society of rural Bangladesh, when a girl is violated in a village, the family is left with no choice but to migrate to India. In addition, in rural areas, pressure to convert to Islam is increasing with every year. In many cases, local authorities ignore such activities because they themselves believe that if they can convert a non-Muslim to Islam, then they will be rewarded after death. This belief has caused an upsurge in the religious conversion of Hindu minors and sometimes even of entire families to Islam."
Within Bangladesh, many Muslims hold negative beliefs about the Hindu population. According to Basu, many Muslims in Bangladesh claim that the Hindus are not patriotic, alleging that they have never died for the country nor fought a war of liberation. However, he emphasized that such statements are bigoted and simply not true: "Jagatiyoti Das was the first to be called Birshrestha (Best Hero/Fighter) of Bangladesh's War of Liberation. At the time, Jagatiyoti's group had 42 people. The group had some freedom fighters operating in Kalyanpur. They fired at the Pakistani Army in Shalla, Ghangia in order to help the freedom fighters in Subal Das's team." He claimed that by claiming that the Hindus are not patriotic and merely fled to India, the authorities are encouraging bigoted beliefs against the Hindus in Bangladesh, which can be used to encourage their silent ethnic cleansing from the country as the world turns a blind eye to it.
"The Awami League wants to destroy the Hindu culture in Bangladesh," he emphasized. "It is very sad that Bangladesh and West Bengal celebrate the Bengali New Year on different dates. But why? The answer is that Sheikh Hasina wants to cleanse Bangladesh of Hindu culture. Her supporters are destroying temples, idols and other symbols of Hindu culture within the country. She has formed a covert alliance with ISIS in order to rid the country of the Hindu minority by slowly ethnically cleansing them from the country via murders, rapes, and looting and land seizures. However, while Sheikh Hasina is forming an alliance with radical Islamists, we Hindus protest against this and seek to establish a secular country who peacefully coexists with other religious groups, such as Muslims, Buddhists, Christians and Jews. We want to be a model for the world. Therefore, this year, we hope that you will speak out about the plight of the Hindus in Bangladesh."