India, France, and their new security agreements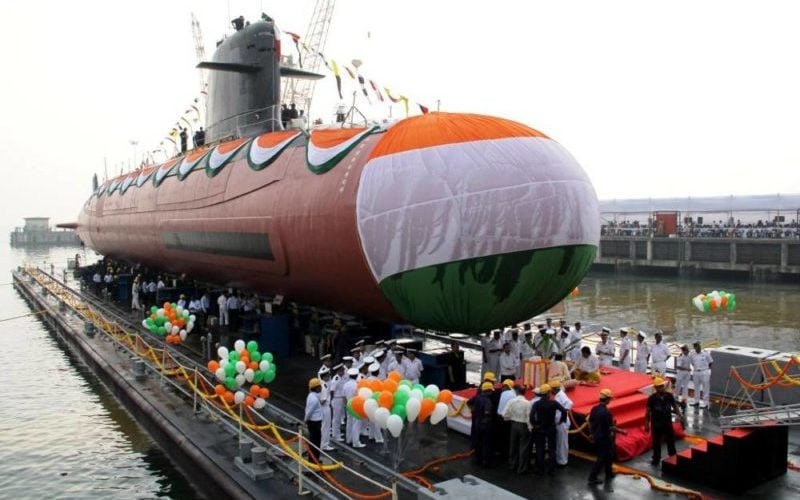 Regional power struggles and maritime security are at the heart of new security agreements between France and India. India is especially worried about being geopolitically isolated by China, and is seeking to expand its presence in the Indian Ocean.
Between 10 and 14 March, India and France signed a series of agreements to strengthen their strategic and commercial relations. The deals aim at deepening cooperation on a wide range of issues, especially defense, space technology, climate change, nuclear energy, urbanization and counterterrorism.  The underlying concerns, however, are ensuring maritime security in the Indian Ocean and containing China's sphere of influence in the region.
Maritime security and India's Indian Ocean influence
Last November, India joined discussions on the revival of a quadrilateral defence cooperation with Japan, Australia and the United States, during which the four members confirmed their commitments to establish a free and open Indo-Pacific region, promote cooperation in line with a rules-based order, respect international law, and ensure freedom of navigation, overflight, maritime security and connectivity. The agreements with France are India's latest effort to create a multilateral network with the common aim to maintain stability and security in the Indian Ocean and the broader Asia-Pacific.
The deals have important practical implications for the regional security landscape. Specifically, India is seeking to strengthen its military presence in the Indian Ocean and to gain access to ports and naval bases in the region, which is precisely what the latest agreements with France allow. Considering France's military presence in the Ocean through the island of La Reunion, Mayotte and the French Antarctic Lands, as well as Djibouti and Abu Dhabi, the partnership could greatly facilitate India's desire for influence in the Western Indian Ocean.
Modi has already signed similar agreements with other partners such as Seychelles, Singapore and Oman, granting India's access to these countries' ports and naval facilities. Also noteworthy is the partnership with the United States, with which Modi signed a logistics agreement in 2017 to facilitate the use of US naval and air force bases in the Indian Ocean and Persian Gulf.
Countering China's ambitions
China's growing presence in the region is one of the main factors behind India's recent efforts to boost its strategic cooperation with third parties. The stakes are particularly high for India because China has repeatedly shown its growing willingness to expand its influence in South Asia and in the Indian Ocean region, threatening India's status of provider of security and stability.  Beijing showed strategic ambitions in Djibouti, where it established its first and for the moment only military base, as well as in Pakistan, Sri Lanka and the Maldives, especially through increased investment and free trade agreements.
From India's perspective, Chinese efforts to strengthen economic ties in South Asia might culminate in the establishment of its naval bases in these key countries. The Maldives' recent tilt towards China is especially worrisome for Modi, as he fears the possibility that Beijing will increase its economic and military presence in the island nation, thereby disrupting the current regional equilibrium.
A stronger response by India as a result of growing Sino-Indian competition would increase the risk of collision between the two regional powers over the Indian Ocean. Most importantly, the risk of military and strategic confrontation between China and India over South Asia and the Indian Ocean will increase, as India attempts to enhance its influence and power. The likely outcome is a struggle to secure bases in smaller and micro-states in the region, bringing significant political risks. Recent instances of instability in the Maldives and the consequent competition for influence between the two powers illustrate this trend, and smaller states will increasingly find themselves in a position to choose between Chinese economic incentives and maintaining their tradition of supporting India's strategic interests.
Shared concerns, mutual benefits
Currently, Modi faces two main challenges in containing China's influence in the Indian Ocean. These are the inability to compete with the economic benefits and foreign investment opportunities that Beijing is able to offer to less developed nations in the region, and a limited defense budget and capabilities.
As a response, India sees increased security cooperation with strategic partners such as France and the Quad as a means to establish a rules-based regional security architecture, in an attempt to attract smaller states in the region and prevent them from gravitating towards China's sphere of influence. Moreover, France is an important partner in developing Indian military capabilities, and the purchase of French-produced Scorpene submarines and Rafale fighter jets is among the most significant contributions to India's limited defence and naval capacity. As France is willing to cooperate with Modi and his security ambitions, similar deals will likely follow soon.
For France, India's growing economic role on the global stage can provide important support, as Macron also seeks to build stronger bilateral relationships as a response to China and Russia's increased assertiveness and internal changes in the European Union and in the US. In Macron's view, India is an important partner in providing greater stability and balance in Asia, and will boost the role of France and the European Union in world affairs.
Chinese expansionism is not the only shared concern for the two leaders. Stronger maritime surveillance and space cooperation were also key component in the agreements, which included areas such high resolution earth observation, spaces situational awareness and satellite navigation. Maritime traffic security is an especially important issue for the two parties, who expressed concerns over freedom of navigation and overflight, organized crime, trafficking of weapons, smuggling and illegal fishing in the Indian Ocean and the Horn of Africa. As both India and France seek to play a stronger role in the region's changing security landscape, cooperation between the two countries over the Indian Ocean will surely grow in the near future.
This article was first published on Global Risk Insights, and was written by Benedetta Di Matteo.