Continuing the Fight for the Yazidi: What Needs to be Done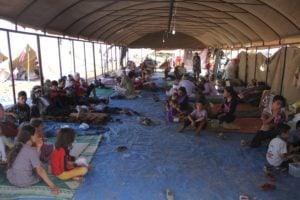 In 2014, the Islamic State's massacre of the Northern Iraqi Sinjar District changed thousands of Yazidi – as well as Christian, Shia, and other non-Sunni – lives.  Though many were able to flee quickly, those left behind would unknowingly be subject to the Islamic State's pre-planned objectives of mass genocide and abduction. While this massacre – now years old – has captured global attention, the situation for the majority of the Yazidis has not improved.  With this article, I want to call attention to the new, ongoing struggle the Yazidi – particularly Yazidi women – are facing, and what I hope will be done for the sake of these survivors.
Background: The 2014 Massacre 
The Yazidi are a Kurdish-speaking religious sect – though distinctly different from Kurds – who are indigenous to Northern Mesopotamia, part of contemporary Northern Iraq. While their faith combines several elements from monotheistic religions like Islam, Christianity, Judaism, and Zoroastrianism, the Yazidis have faced discrimination from fundamentalists like the Islamic State (Daesh), whose view of Yazidis as devil-worshipping infidels made the religious sect a prime target for genocide.
Two months before the 2014 summer massacre, the third division of the Iraqi army, which included many Yazidis, based around Sinjar fell to Daesh, making the entire district vulnerable. That August, Daesh launched an attack on the Sinjar district. An estimated 50,000 to 250,000 people were able to flee, but those who could not get out in time faced inexplicable horrors. The Yazidi were separated by age and gender and, as a report explains,
Women and children under the age of seven were transferred to holding sites. The women were sold as sexual slaves to Daesh fighters in Iraq and Syria, often with their young children. Males above the age of 12 who would not renounce their faith were summarily executed… [while] men who were forcibly converted to Islam were sent to various territories in Iraq and Syria to perform manual labor. Boys between the ages of 7 and 12 were sent to Daesh indoctrination and training camps to become fighters themselves. Girls above the age of 9 were separated from their mother and sold as slaves. (Canadian Department of Immigration, Refugees, and Citizenship).
In a matter of days, an estimated 10,000 Yazidis were killed or kidnapped during the massacre. While the true number of casualties may never be known, an estimated 3,000 were executed – thrown into pits, beheaded, burned alive – while others died of dehydration or other injuries; additionally, 6,000-7,000 women and children were taken as sex slaves and rewards for militants. This mass abduction of Yazidi women and girls, as well as the torturing and sexual abuse, by Daesh militants went initially unnoticed amid the chaos and destruction of the August massacre.
Once taken, Yazidi captives – unmarried women and girls over the age of nine – were relocated to prearranged locations in Iraq and first given to militants who attacked Sinjar, then sold on makeshift slave markets where they were raped by, married off to, and/or passed around between militants. To avoid this fate, some girls killed themselves, disfigured or smeared themselves with ash or blood to seem unattractive to potential buyers, pretended to be mute or deaf, or cut younger girls' hair to make them look like boys.
Since then, what's been going on?
Since the 2014 massacre, some progress has been made against Daesh: Iraqi forces drove the Islamic State out of Mosul and other parts of Northern Iraq in 2016, Kurdish and Iraqi forces liberated millions throughout 2017, and internationally unified coalitions have committed to and have made progress taking away Daesh territory.
Despite these noteworthy and merited advances against Daesh-occupied territory, international interest in the Yazidi has faded, while initiatives for stability and healing leave much to be desired for these survivors. Though 3,000 women and children still remain in captivity and the pace of rescues remains slow and sporadic, those who have managed to escape still struggle to survive. Left without income, identity papers, and most of their families, Yazidi women have to fight for their futures while facing the burden of deep psychological and physical trauma.
Living conditions for surviving Yazidis who remain in Iraq and Syria only complicate their daily struggles further. Most have been living in displaced persons camps and temporary shelters in northern Iraq for the past four years, though the UN had made a statement that temporary living for the Yazidi would only last a year. The temporary shelters many Yazidis find themselves in are, frankly, deplorable. Their makeshift homes – tents or abandoned construction sites – have no electricity or running water and have proven unsafe, with reports of fire and flooding destroying many of the tents. Further, lack of state institutions – as well as the recent economic crisis – in Iraq has left many of the Yazidi population without means to bring in income, rebuild their homes, seek help for trauma, and live free from fear of future violence.
What needs to be done in the future?
Responses that promote and aid in the Yazidi community's recovery are necessary. Not only should past and present perpetrators of violence against the Yazidi be brought to justice, but the physical and emotional needs of the surviving populace must also be addressed.
For starters, the overburdened Iraqi courts have tried thousands of suspected Daesh members and collaborators, delivering verdicts for around 2,800 suspected members of the Islamic State in 2017 alone. While many more still await prosecution, most trials only last a few minutes and leave little-to-no room for victim participation or opportunity for perpetrators to confess and repent. Further, Daesh collaborators and militants are mostly convicted for membership in a terrorist organization rather than for genocide. This delivers hardly any justice to the Yazidi or other victims and survivors of genocide, especially as the investigations into crimes committed against them are slow-moving. Though the International Commission on Missing Persons (ICMP) and the Commission for Investigation and Gathering Evidence (CIGE) in Iraq signed an agreement in February of this year to collaborate on missing persons investigations, these investigations will likely take years. Part of effective recovery for the Yazidi, particularly female victims or sexual slavery and violence, will be seeing perpetrators brought to justice, which makes the investigations into Daesh's crimes all the more pressing.
Additionally, the physical and emotional state of many Yazidis – perhaps the most crucial to their recovery – is problematic and obviously needs to be attended to. Camp conditions discussed above are clearly inadequate and unsafe for Yazidi refugees, most of whom are likely to have limited access to formal education, health services, and psychological support. The lack of services is likely due to insufficient funding and attention to refugee camps and temporary shelters, which only prolongs the situation for the Yazidi. Some programs, like the trauma healing therapy program conducted by the Emma Organization and the photojournalism workshop conducted by UNICIEF, have shown to provide opportunities for healing and progress for the Yazidi community, but much more needs to be done. Besides providing funding and accessible, vital resources, Yazidism must be recognized in different religious communities as legitimate, as it would help in destigmatizing Yazidis and taking away excuses to attack their community.
The Yazidi are a community of survivors and, having faced indescribable and harrowing atrocities, they continue to persevere in the fight for a better quality of life. With continuing help from exceptional organizations and people who are working to support and advocate for the Yazidi, increased international attention to the Yazidi's needs would expedite and facilitate their recovery.