Op-Ed: Why Lara Alqasam does not belong in Israel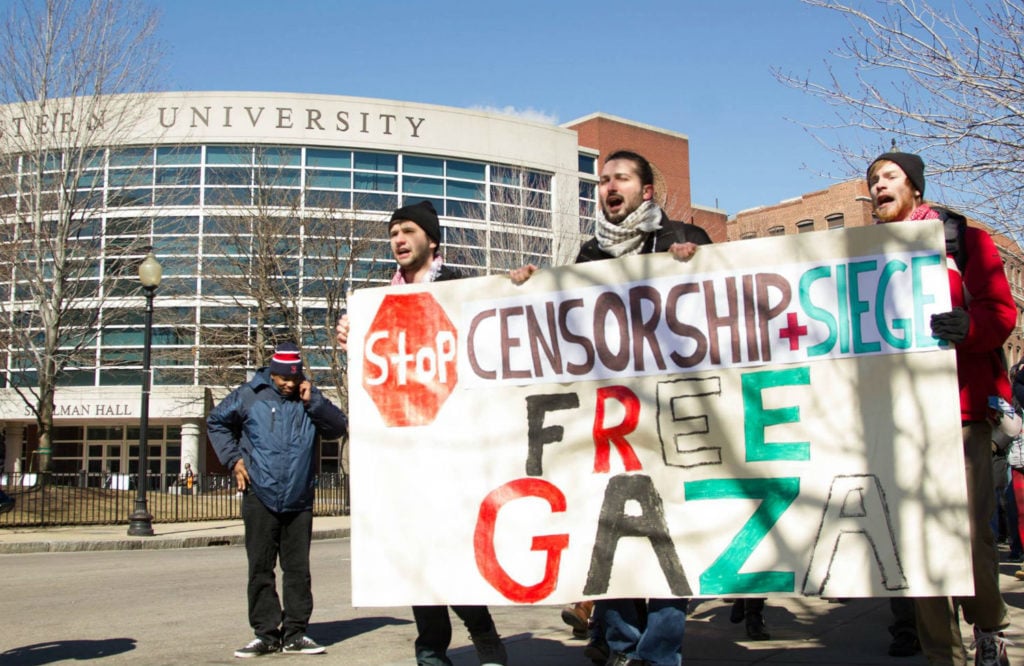 In recent days, many have been critical of Israel for detaining Palestinian American activist Lara Alqasem. However, such criticism is not justified in any shape or form. Lara Alqassem was the president of the University of Florida's chapter of the Students for Justice in Palestine, a radical group that supports the BDS Movement. According to Im Tirtzu, an Israel-based Zionist organization, during her tenure there, she organized an event in honor of Rasmea Odeh, a convicted Palestinian female terrorist with the Popular Front for the Liberation of Palestine who murdered two Hebrew University students. She also bombed the British Consulate.
And on top of that, Gulf News reported that the Students for Justice in Palestine at the University of Florida under Alqassem's tenure also promoted the boycott of Sabra Hummus. Any country that is at the forefront fighting for its right to exist and is currently engaged in a war against terrorism would think twice before allowing someone associated with such a group to pursue a two-year masters' program in a university located within its borders.
For many years, Israel has suffered from anti-Israel activists who have used their positions within Israeli universities in order to harm the state. For example, Omar Barghouti, who in the past studied at Tel Aviv University, launched a global campaign calling for a boycott of Israel. Similarly, other academics such as Dr. Neve Gordon, Dr. Anat Matar and Dr. Rachel Geora have exploited their positions at Israeli universities in order to promote the BDS Movement. Should Alqassem study at the Hebrew University, who is to say that she would not become active in the Boycott from Within Movement?
However, as an Israeli citizen living under the shadow of Palestinian terrorism, I have greater concerns than her support for BDS. When I was an MA student at Ben-Gurion University, Dr. Maya Rosenfeld used her position as a professor teaching international students in order to glorify Ghassan Khanafani, a leading terrorist from the Popular Front for the Liberation of Palestine. At the same university, Gordon attended a demonstration where Arab students called upon Turkish President Recep Tayyip Erdogan to punish (bomb) Tel Aviv. Furthermore, local student activists at BGU brought foreign students to the West Bank, where they attended Land Day riots where stones were thrown at Israeli soldiers. Who is to say that Alqasem would not join one of those violent protests or would use her position as a student at an Israeli university in order to glorify such wanton acts of violence?
While some could argue that given that the atmosphere at Israeli universities already incorporates the anti-Israel narrative in the name of dialogue, why is it so harmful for Lara Alqassem to join the fray? However, what makes the presence of Lara Alqassem so detrimental to Israel's security is that should she join violent anti-Israel protests, due to her American citizenship, Israel will be restrained regarding what actions that it can take against her. Israel will not be able to penalize her for throwing stones in the same manner that it could a Palestinian rioter or Israeli citizen who joined such protests because any actions that Israel would take against her would blow up in the media, as the recent media coverage has demonstrated. This places Israel in a terrible dilemma. The country can either defend its security knowing it will lead to negative press coverage or it could give her a green light to act against the country, which would only embolden Israel's enemies to do likewise.
Furthermore, should Alqassem get a masters' degree from Hebrew University and spend two years living in East Jerusalem, she would return as an Israel expert to the US and could potentially get influential jobs that would influence US policy towards Israel. If she is a supporter of the BDS Movement, it could be detrimental for the US-Israeli relationship for her to hold such a status. This is not the case for a Palestinian anti-Israel activist living in East Jerusalem or a radical left wing Jewish Israeli student studying at the Hebrew University, whose actions against the state would be confined towards influencing the Jewish and Palestinian populations in Jerusalem respectively. Their actions in most cases will not harm Israel internationally. But many people in Israel and abroad do not fully grasp these factors.
So many people are rushing to support Alqassem. Im Tirtzu reported that students active in Standing Together, a group backed by the New Israel Fund, placed signs that stated "Reserved for Lara Alqasem." Im Tirtzu subsequently crossed out her name and wrote the names of three Israeli terror victims that were murdered recently: Ari Fuld, Kim Levengrond and Ziv Hajbi.
I agree with the actions taken by Im Tirtzu. For the Israeli victims of terrorism, it is abhorrent that a seat would be reserved for an anti-Israel activist that was part of a group that not only supports BDS but also glorifies Palestinian terrorism. I am not the only one who is appalled by this. Peter Goldman, the President of the Swedish Friends of the Hebrew University, is also greatly disturbed how the university is rushing to support Alqassem.
Dana Barnett, who heads Israel Academia Monitor, a group that monitors anti-Israel activities within academia, stated that all of these actions that are being taken on behalf of Alqasem are morally wrong and hypocritical: "According to the BDS Law, anyone who calls for a boycott should be punished. If people are democratic, they should support the legal system." As the Israeli Court of Appeals proclaimed, "Any self-respecting state defends its own interests and those of its citizens, and has the right to fight against the actions of a boycott as well as any attacks on its image." Anti-semitism scholar Manfred Gerstenfeld believes that given this, Alqasem should go and study in one of the 191 countries that she has not incited against.