Op-Ed: Will Bangladesh be the next Pakistan?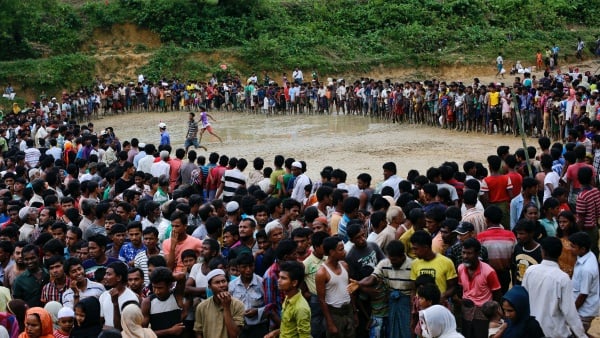 The Sheikh Hasina government recently declared that Bangladesh is an Islamic state and "anyone who pronounces offensive statements against it or against the Prophet Muhammed will be prosecuted according to the law."
Ahead of next month's elections, Bangladeshi Prime Minister Sheikh Hasina has announced that she plans to get the Saudis to build 560 model mosques and an Islamic university. In addition, she declared that Bangladesh is an Islamic state: "Anyone who pronounces offensive statements against it or against the Prophet Muhammed will be prosecuted according to the law." These actions come after she declared that a degree from an Islamic madrassa will be on par with a university degree within the country. Analysts report that these moves were made in order to pander to radical Islamist voters but the BNP also panders to that same voter base. This means that presently, there is no secular liberal alternative running in the upcoming Bangladeshi elections. The question remains, is Bangladesh becoming the next Pakistan?
Bangladeshi dissident Sazzadul Huq thinks that Bangladesh is well on the road to being the next Pakistan: "It is true that there is no Blasphemy Law in Bangladesh. But, the ICT act (Information and Technology Act) which has turned into the Digital Security Act is just a de facto of blasphemy law. Bloggers, journalists, writers, online activists, human rights activists and LGBT activists have been under the microscope of the government and threats from Islamic fundamentalists for online materials that may have been perceived by some to have hurt their religious beliefs. As a result, peoples' freedom of thought and expression is being violated. The conscious people of Bangladesh are being restricted from speaking the truth."
On June On 12, 2018, Bangladeshi secular writer Shahzahan Bachchu was shot dead in the Munshiganj district. Bachchu had previously received threats from extremists groups due to his outspoken support for secularism. Renowned photographer Shahidul Alam criticized the government a few months ago on Al Jazeera in the wake of the student protests against the widespread road accidents within the country. He argued that the students were protesting not only against road accidents but also against the widespread government corruption within the country. Because of that, the Bangladeshi government arrested him. According to Huq, "Many teachers, writers and activists have also been arrested."
Huq also suffered himself immensely due to the present reality in Bangladesh. On May 27, 2017, dissident Sazzadul Hoque posted on his Facebook: "I wish to live like a human and not a Muslim. Things that I was taught and made to believe are wrong." As a result of this post, he was suspended from Facebook and got expelled from university. He faced numerous online threats, which proclaimed: "This guy renounced Islam. We are asking the authorities to apprehend this guy as soon as possible for if not, there might be religious riots like there were in the past;" "We don't need a bastard like yourself. You should be persecuted or even killed. You don't have a right to live on this land;" "Sisterfucker, you are making the biggest mistake of your life and let Allah cause you all kinds of misery;" "You are not a human. You are the son of a prostitute. You are a dog fucker. If you came in front of me, I would slice you. Your meat would have been distributed to the dogs, you fucking pig;" "If only I could get my hands on you, I would decapitate and slaughter you, you son of a pig."
Islamist groups were threatening him and his friends. Hundreds of people came to visit his maternal uncle and his mother, threatening to kill him. The government did nothing to protect him. However, some Islamist teachers did attempt to get the police to arrest him. Due to this horrific situation, he left Dhaka and returned to his village but he could not stay there once the locals realized that he was there. He received phone calls stating that he would be killed wherever he was found. He moved from his home to that of his maternal aunt. When they found out where he was, they threatened to burn down her home for sheltering him so he left her home as well. As he fled from place to place, imams were preaching in the local mosques that he should be killed as an apostate. Due to these threats, he moved to India but is only allowed to stay there under his present visa for another two months. He faced numerous cyber threats and media outlets which covered his story in Bangladesh also faced numerous threats until they were forced to delete the news.
If Sheikh Hasina's legislation comes into fruition, a horrific situation for journalists and bloggers like Huq will become even worse, thus leaving one to ponder whether the country will turn into the next Pakistan. Already, Pakistan is an unfree country where it is unsafe for journalists to openly speak and report the truth. According to dissident Repunzel Baloch, hundreds of journalists have been abducted and killed by Pakistani forces in Balochistan, Pashtunistan, Sindh and Pok. He claimed that in Balochistan alone, over 50 journalists have been abducted, tortured and killed by Pakistani military forces.
"Hamid Mir who was an honest journalist working for Pakistani TV was attacked by ISIS for reporting the truth about the Baloch cause and highlighting the crimes of the government," Baloch added, emphasizing that Manzoor Bugti was abducted, Javed Naseer disappeared, Razzaq Gul also went missing, Haji Abdul Raqiz Baloch was abducted, and that there are many more cases of journalists who fell victim to the Pakistani government.
While Asia Bibi, a Christian mother who insulted her Muslim neighbors in Pakistan by drinking from a well, won't be executed for blasphemy in the end and she was recently released from prison, her life is still in danger. There is a bounty that was placed on her head by various radical groups. As a result, she and her family is seeking to flee her country, where the blasphemy law is still in place. Ahmedi Muslims, Christians, Hindus and others can still face the ordeal that Asia Bibi faced in the future. If the Sheikh Hasina government is not put in check, this is what Bangladeshis have to look forward to.