Bangladeshi media: Prominent Muslim human rights activist arrested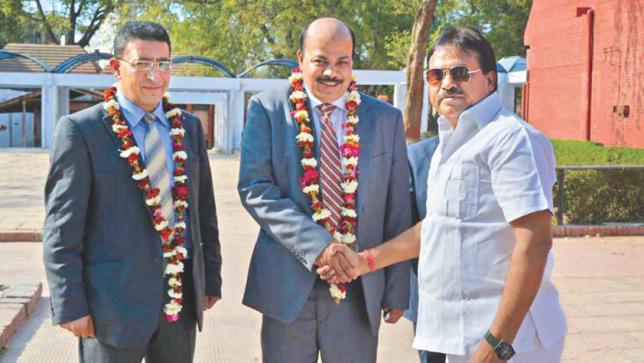 Aslam Chowdhury, a prominent Muslim minority and human rights activist who also serves as the BNP Central Joint Secretary General in Bangladesh, was displayed arrested recently in the Bangladeshi media and is presently in jail after being disqualified from running in the elections later this month. According to the report, the Police surrounded his home for three hours when a meeting was being held there and 25 leaders were arrested. Later on, Mr. Chowdhury revealed that he was not arrested but his elder brother Nizam Uddin Chowdhury and 17 other members of his political team were.
This incident came after the Bangladeshi Election Committee cleared Mr. Chowdhury to run for Chattogram 4 in the upcoming elections. Mendi Safadi, who presently heads the Safadi Center for International Diplomacy, Research, Public Relations and Human Rights, heavily criticized the incident: "When the election committee prevents Aslam Chowdhury and other opposition politicians from running for elections, in order to increase the chances of winning the elections, under international law, this is equivalent to falsifying elections. This is the conduct of an unfit election campaign and we will consider our actions in this case."
"It is not enough that the government announced without warning in mid-November that the elections would be held at the end of December, and immediately afterwards, there was an unprecedented wave of arrests of tens of thousands of political activists, which was carried out to rig the election results in favor of the corrupt Sheikh Hasina government," Safadi proclaimed, noting that 15,000 opposition activists were recently arrested and most of the detained are Hindus. "She refuses to face popular candidates from the opposition and this goes against any democratic value."
Safadi declared in response: "We will turn to the United Nations and the European Parliament in the coming days and submit a special report to each of the parliaments in Europe, the Kremlin and the US Congress in order to give protection to the opposition in Bangladesh so that opposition candidates will be able to vote and to be elected transparently and legally."
A couple of years ago, Chowdhury was arrested after meeting with Safadi, who formerly served as Ayoob Kara's chief of staff. The Bangladeshi government alleged that he was part of an Israeli plot to topple the Bangladeshi government but Safadi related that the real reason he was arrested was due to his role in the country's opposition. Bangladesh has no diplomatic relations with Israel and Bangladeshi citizens are barred from visiting the Jewish state.
According to the Gatestone Institute, during every Friday sermon, the Jewish people are cursed from more than 250,000 mosques in the country. In addition, Sheikh Hasina declared that Bangladesh is an Islamic state: "Anyone who pronounces offensive statements against it or against the Prophet Muhammed will be prosecuted according to the law."