New York trial casts new scrutiny on China's Belt and Road Initiative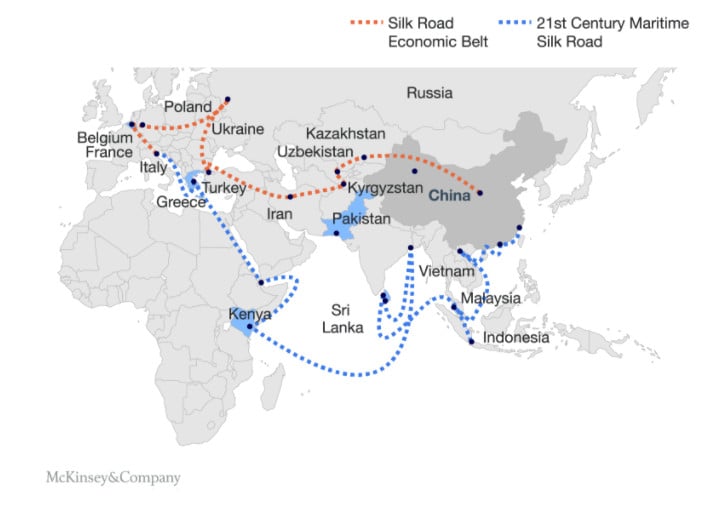 According to prosecutors, the trial of Patrick Ho was simply business. The Chinese financier, found guilty of orchestrating a multi-million dollar bribery scheme in Africa, wasn't the victim of a US smear campaign as his defense claimed. No, he was simply brought to justice for violating US laws while working for an US-based organization.
Yet no matter what the prosecution says, it's impossible to ignore the wider significance of the affair. By jailing one of China's key international promoters for his role in the country's 'Belt and Road' trade strategy, the US has shown its concerns at the shady practices Beijing is using to secure an advantage overseas. While Ho's dealings appear to have posed little threat to the US, they epitomize a ruthless global strategy which, in many parts of the developing world, challenges US hegemony and is now forcing Washington to act.
To critics of President Xi Jinping's regime, Ho summed up their ruthless attempts at economic imperialism. The former Hong Kong politician's trial heard that, while working for a think tank funded by Shanghai-based CEPC China Energy, he offered $2.9 million in bribes to political leaders in Chad and Uganda to secure oil and development rights. Senegalese politician Cheikh Gadio, the prosecution's key witness, claimed this included a gift-wrapped $2 million presented to Chadian President Idriss Deby in a rural village.
The case offered an insight into how China is building influence in Africa and Asia through Belt and Road, a $4 trillion funding program that has been likened to 'WTO 2.0'. The program has long been the subject of rumor and innuendo, particularly in Africa, where Chinese businesses are routinely accused of buying contracts with kickbacks. A McKinsey report published last year found that nearly 90% of Chinese companies were using bribes in some African countries.
These reports, often accompanied by tales of bullying and the humiliation of local workers, are troubling enough. Yet they are mirrored by the Chinese government's own coercive strategy, which, critics claim, is fundamental to Belt and Road.
Debt diplomacy
Chinese banks have lent money to developing countries at a furious rate – around $20 billion has been extended since last summer alone. The money is typically provided with attractive repayment rates and little scrutiny, perfect for unscrupulous regimes. But the evidence suggests China is simply laying a series of debt traps, which could be used to snare prime strategic assets in regions which previously fell under US control.
A prime example is Sri Lanka, where China provided the money for former president Mahinda Rajapaksa to build the huge port of Hambantota, widely derided as a personal vanity project. The port proved a disaster (in 2012 it attracted only 34 ships) and the financial arrears proved too much for Rajapaksa's government, which surrendered Hambantota to Beijing on a 99-year-lease. Although the terms specifically forbid the military use of Hambantota, fears are mounting that this condition could be loosened in exchange for further debt relief.
The strategic importance of Hambantota to the US appears relatively low, but nonetheless it's a headache Washington could do without. American strategists are already worried about China's maritime buildup, and the ongoing US activity in the Middle East means the Indian Ocean, which has harbored a significant American presence since World War II, is a key artery. China has already invested heavily in the region through its economic corridor with Pakistan – prompting the Trump Administration to show its concern by imploring South Asian nations not to follow Sri Lanka's lead by surrendering their sovereignty.
Meanwhile, 4,000 kilometers away, fears are growing that China will repeat the Hambantota trick in an area far more important to the US; the Horn of Africa. Beijing has already established a military base in Djibouti, near America's monolithic Camp Lemonnier, and now appears poised to accept the neighboring Doraleh container terminal as a gift. With his country's debt to China pushing 90% of GDP, President Ismail Guelleh has already ejected Doraleh's previous operator, Dubai's DP World, and allowed China to build a free trade zone.
Xi's officials would doubtless claim that Doraleh, perched alongside one of the world's busiest sea lines, is vital to the Maritime Silk Road, the aquatic branch of Belt and Road. Yet for the US, which uses Djibouti as a jump-off for operations against groups such as Al-Qaeda and Islamic State, there's a clear military significance, heightened by evidence that Guelleh's regime is abetting weapons smuggling between Yemen and Somalia. The decision to pick a fight with Beijing in May, after claiming Chinese forces pointed lasers at US planes in Djibouti's skies, demonstrates how much China's incursion has rattled decision-makers in Washington.
As Belt and Road expands, so new countries will become pawns in China's push for global supremacy. In the Indo-Pacific region, for example, Beijing pledged $4 billion to a cluster of islands including Papua New Guinea, Fiji and Vanuatu just last year. Like Djibouti and Sri Lanka, the islands are plagued by corruption and weak government. According to Australia, previously the region's top donor (and a key US ally), China's loans have been wasted on "roads to nowhere", echoing the folly of Hambantota.
Although the populations of these islands typically fall below 1 million, their location makes them strategic. The Indo-Pacific is not only vital in maintaining sea lines between East and West, it is close to the South China Sea, where the US and China have been locked in a regional struggle for years, both building new bases in a prolonged game of one-upmanship. Reports in April that China is planning a base in Vanuatu were hastily denied – but Beijing will surely have noted with interest the discomfort they caused.
Against this backdrop, it's easy to see why the US was so keen to jail Ho. His activity was straight from the Belt and Road playbook, which arguably poses the greatest threat to US global superiority since the fall of the Soviet Union, and his American connection allowed the Department of Justice to land a blow. Prosecutors may claim there was nothing political about it, but when it comes to China and America, nearly everything is.