Op-ed: Rapid increase in violence within Bangladesh post-election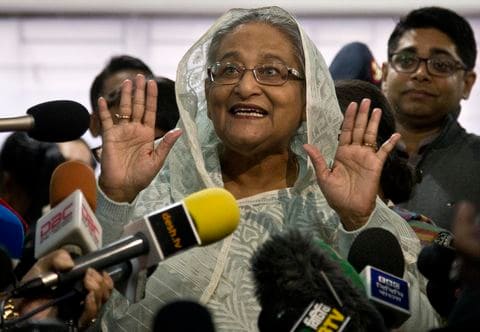 In the wake of reports of massive voter fraud in Bangladesh, when according to numerous opposition activists, the election was essentially robbed from the people by the Sheikh Hasina government, Shipan Kumer Basu, the President of the World Hindu Struggle Committee, reported that there is now a rapid increase in violence targeting both oppositions activities minority communities within the Asian country. According to him, post-election, there have been a series of attacks, assaults, murders and gang rapes in Bangladesh, which have occurred merely in order to suppress the Hindus, Buddhists, Christians and other minorities, as well as dissidents and members of the opposition, so that they will be compelled to flee the country.
For example, he noted that in Noakhali, Awami League members entered a home and tied up the hands of the husband while raping the man's wife, a mother of four children. According to reliable sources, Basu reported that Parul Begum, a Muslim who voted for Paddy Shauf and the mother of 4 who was gang-raped, was badly injured in the incident and was hospitalized. He proclaimed that although Awami League leader Md. Sohel, the main man accused of implementing the gang rape, was arrested alongside two others, the other six accused in the case have not been arrested. According to locals in the area, the rapists can be released at any moment due to their affiliation with the governing party.
In another incident post-election, Basu noted that Bangladeshi MP Nixon Chowdhury, who was an Awami League member that ran in the election as an independent, was attacked as hundreds of local Hindus were in his home in Upazila of Faridpur district. According to him, his home fell victim to an arson attack and was vandalized. Basu reported that they also looted the valuables inside of the home. According to the report, Chowdhury was not the only victim. Locals reported that over 50 homes belonging to BNP supporters were plundered and vandalized as well in the Bangla Bazar Union of Doabarbaza Upazila.
Furthermore, according to Basu, a group of 30-35 people, including Former Chairman Fazlul Haque Bepari, looted, vandalized and ransacked the house of Rameezuddin at Dadpur village of Laxmipur Union in Kalkini upazila of Madaripur district. Ramijuddin's wife Fazilah Khatun, his sons' wife Toma who is pregnant and his sister's daughter Hasina were seriously injured.
In addition, according to the World Hindu Struggle Committee, the home of Hindu Pashi Dasi was burnt to the ground, there was a rape attempt of a Hindu girl in Dinajpur and a Hindu couple disappeared from Brahmanburia and has not been heard from since. It is believed that they were probably abducted. According to them, there has also been anti-Hindu incitement reported in the Bangladeshi mosques post-election. It should be noted that the incidents listed above are only a small sample of the anti-opposition and anti-minority violence that has occurred within Bangladesh post-election.
As a result of these violent incidents, which followed a massive voter fraud that was accompanied by the arrest of tens of thousands of opposition activists and the killing of many others including members of minority groups within the Asian country, Mendi Safadi, who heads the Safadi Center for International Diplomacy, Research, Public Relations and Human Rights, stressed that he will be submitting a report to the UN Human Rights Council and he is presently drafting a petition against the Sheikh Hasina government, which will be sent to the International Criminal Court at the Hague: "We plan to submit a petition that will punish this criminal government."
—
Written by Rachel Avraham, who is the President of the Dona Gracia Mendes Nasi Center for Human Rights in Middle East (under formation) and is a political analyst at the Safadi Center for International Diplomacy, Research, Public Relations and Human Rights. She is also a fellow at the Haym Salomon Center, a news and public policy group. For over 6 years, she has been an Israel-based journalist, specializing in radical Islam, abuses of human rights and minority rights, counter-terrorism, the Israeli-Palestinian conflict, Syria, Iran, Kurdistan and other issues of importance. Avraham is the author of "Women and Jihad: Debating Palestinian Female Suicide Bombings in the American, Israeli and Arab Media," a ground-breaking book endorsed by Former Israel Consul General Yitzchak Ben Gad and Israeli Communications Minister Ayoob Kara that discusses how the media exploits the life stories of Palestinian female terrorists in order to justify wanton acts of violence. Avraham has an MA in Middle Eastern Studies from Ben-Gurion University. She received her BA in Government and Politics with minors in Jewish Studies and Middle Eastern Studies from the University of Maryland at College Park.