Op-ed: On Enes Kanter, the Turkish Government, and the Politics of Sports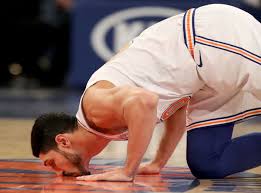 For most of his adult life Enes Kanter has been on the radar of the basketball world. After moving to the United States as a teenager, Kanter quickly developed a reputation as a young player to watch. He cemented this reputation, and gave a major spark to his professional aspirations, in 2010 when, at the prestigious Nike Hoops Summit, he broke the scoring record previously held by another international player, and sure fire Hall of Famer, Dirk Nowitzki. Following his breakout performance on one of the sport's biggest stages for young athletes, Kanter earned a perfect five star rating from many of the most respected scouting agencies and went on to sign with the University of Kentucky to play his college ball. While problems with his recruiting prevented Kanter from playing at UK, his professional potential remained obvious and he entered the NBA as the 3rd overall pick in the 2011 draft. Once in the league, Kanter spent the first few years of his career playing for the Utah Jazz before being traded to the Oklahoma City Thunder. With the Thunder, Kanter's career began to take off, as he helped his team reach the Western Conference Finals in 2016.
Following the 2017 season, Kanter was traded from one of the NBA's best teams to a team that has spent much of the last decade struggling to regain basketball glory, the New York Knicks. Last season, he was a major contributor and emotional leader to a Knick's team that was in desperate need of veteran leadership. Kanter started each game in which he played, and had an impressive statistical season, averaging over 10 rebounds and 14 points a game- marking him as a dependable double-double threat and a legitimate starter in the league. As a New Yorker and basketball fan myself, Kanter stood out to me as a player who exhibited constant hustle and effort on both ends of the court, and as a true leader who was capable of inspiring his team in the face of major obsticals- some of you might remember his infamous "beef" with LeBron James after James made a negative comment about one of Kanter's young teammates.
Despite a reputation as a strong locker room presence and dependable player on the court, Kanter has seen a reduced roll this season as the Knicks have opted to develop younger players (and secure a better choice in the upcoming NBA draft) rather than try to contend for a playoff spot with a roster that, as currently constructed, has very little potential to be anything more than a warm up for one of the NBA's true contenders in the first round of the playoffs. While Kanter remains a dependable player- in games where he does play his numbers show that he is still capable of putting up double-double numbers- the ark of his career and the long term trajectory of the Knicks simply do not line up, which has led to a good deal of trade speculation for the Turkish big man. Over the last few games, frustrations from Knicks fans began to boil over, and Madison Square Garden has been home to chants of "We want Kanter!" in support of a fan favorite who has found himself riding the bench when talent alone would suggest that he should be playing significant minutes.
All of this appeared to come to a head this week when, after expressing frustration with coaching and organizational decisions, Kanter kissed the court as he entered a game against the Dallas Mavericks. The move has widely been understood as a sign of his desire to remain loyal to his team and teammates, and as a thank you to the fans for their continued support and desire to see him play. Sadly for Knicks fans, there is also a good chance that the move reveals that Kanter believes his time in New York to be nearing an end.
Now, after a few hundred words following the playing career of one of the NBA's lesser stars, it's fair to ask why this sort of reporting belongs on a blog focused on global issues and foreign affairs. The answer is simple- Enes Kanter is far more than an athlete. He has long been an outspoken critic of Turkish President Recep Tayyip Erodgan, a man with a growing reputation for using his office to squelch dissent and silence political rivals. During his time with the Oklahoma City Thunder, Kanter was detained in a Bulgarian airport after discovering that his Turkish passport had been revoked while on a goodwill tour for the Enes Kanter Foundation, which works to give food and clothing to those in need all around the world. Following the incident, Kanter suggested that his passport had been revolked as a consequence of his political activism and criticism of President Erodagan, and that by revolking his passport, the Turkish government had hoped the irregularities would force Kanter to return to Turkey where he would more likely be met with retribution for his political comments than with a new passport. It was only his platform as an athlete that allowed him to get the attention of the U.S. Department of Homeland Security and both Oklahoma Senators that allowed him to find safe passage back to the United States.
In the years that have followed, Kanter has continued to speak out against a continually deteriorating situation in his native Turkey. In 2017, the Turkish state began looking for an opportunity to put the outspoken athlete behind bars for the "crime" of drawing attention to the increasingly brutal suppression of free speech and decline of democratic norms in Turkey. In the months following that exchange, Erodagan allegedly pushed his government to issue charges against Enes' father, a professor named Mehmet Kanter, for his supposed support of Fethullah Gulen, a (admittedly flawed) cleric from Turkey who has taken up residence in the United States for his own protection. Mr. Gulen has long been at the center of Turkish politics for his work promoting education, free markets, and professional success, but as President Erodagan's regime became increasingly repressive Mr. Gulen's prominent voice and political messaging made him a target for the state. The tension between Erodagan and Gulen reached the breaking point in 2016, when a failed coup against Erodagan was pinned on Mr. Gulen and his supporters, tens of thousands of whom have been arrested for their presumed support or involvement in the coup attempt. It is worth noting that Mr. Gulen has repeatedly stated that he was not involved in the coup attempt, but his statements have done little to stop Erodagan's suppression of Gulen's followers and institutions.
Despite threats to his own personal safety, and the safety of his family, Kanter has remained unwavering in his criticism of a government that he finds unjust and repressive. In the last few months alone, Kanter has spoken out on a range of platforms, from appearances on CNN to a sit down conversation with U.S. Senator, and critic of Erodagan in his own right, Marco Rubio. Not only has Kanter's outspokenness put his physical safety at risk, but he believes that it has hurt his professional prospects as well. Despite standing behind other politically minded athletes like Colin Kaepernick in his protests against racial discrimination and police brutality, Nike has refused to sign Kanter to an endorsement deal (despite having a far more successful career than other Nike representatives in the NBA). Kanter believes, with good reason, that Nike is reluctant to sign him to an endorsement deal because of the risk that public support for one of the Turkish government's most wanted men might have for the company's business prospects in the country.
Just as there is little doubt that the political situation in Turkey has taken a dramatic turn for the worse in the past few years, there should be little doubt that Enes Kanter is not only an elite athlete but also a dedicated political activist working in support of human rights, free speech, and democratic values. Sports have long been an important part of many cultures in many parts of the world, but with the increased visibility offered to athletes brought about by the internet and the globalization of some aspects of American sports culture, many athletes find themselves in a position that allows them to do more for the global good than their peers from previous generations could have dreamt. Athletes like Kanter, Kaepernick, and LeBron James have used their platforms to spread awareness and draw attention to social and political issues that resonate with them. We should celebrate the inclusion of new and diverse voices in our political conversations, and we should be grateful that an increasing number of prominent individuals feel that it is part of their social obligation to use their athletic success to make the world a better place.
So, Enes Kanter, wherever your basketball career takes you, know that you've earned the support and admiration of many, myself included, not only for your hustle on the court, but also for your desire to improve the world from the sidelines as well.
Written by Peter Scaturro, Director of Studies at the Foreign Policy Association