Op-Ed: Why does Trump ignore persecution of Hindus in Bangladesh?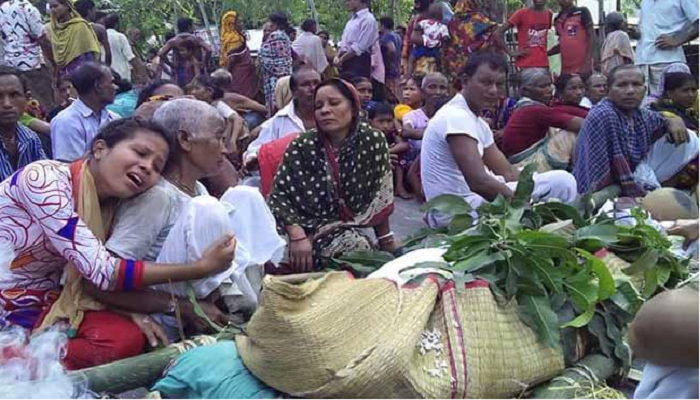 In recent days, US President Donald Trump congratulated Sheikh Hasina on her re-election in a letter sent to the Bangladeshi Prime Minister. However, at the same time, President Trump acknowledged that Bangladesh should "renew its commitment to protecting human rights, individual freedom of expression and democratic institutions."
According to Trump, "Ongoing reports of attacks on the political opposition and their supporters and repression of journalists are tainting the national election and Bangladesh's international reputation. If peaceful expression of dissent is suppressed, there is a risk some will turn to violence, which undermines the stability and economic prosperity that your government has worked so hard to create." However, what Trump's letter ignores is the increased repression of the Hindu minority within the country following the recent election results.
For example, in the Rajapur Upazila of Khalakhati, a Hindu husband and wife were almost burned to death in their store. The couple survived the incident but their entire shop was destroyed in the flames. In another incident, a Hindu shop worker was killed in the Netrokona district, after returning home from engaging in business activities. And in still another incident, a Hindu girl named Tura Roy was kidnapped on the way to college in the Mymensingh district and another girl was raped in the Sunamganj district in the Mathurakanda area of Bishambhupar Upzaila. As if all of these incidents were not bad enough, Hindu property was seized in the Bagerhat district. As a result, the fate of the Shitla Temple is in jeopardy.
Then, on top of everything, not too long ago, the body of minority UP member Dilip Roy was discovered in Dinajpur. The cause of his death is still unknown but he was a former UP member of Bhandara UP No. 6. This incident occurred after a Hindu religious function came under attack in Old Dhaka. However, sadly, Mr. Trump had nothing to say about any of these fresh incidents targeting the Hindu community within Bangladesh, which occurred right after sham elections were held within the country that resulted in massive voter fraud. Apparently, the White House still does not get that there is a strong connection between the lack of minority rights and the lack of democracy within Bangladesh.
However, Mr. Trump is not the only one who fails to grasp how grave the plight of the Hindus of Bangladesh presently is. Recently, Foreign Policy Magazine ranked Sheikh Hasina as one of the top ten thinkers of the year. They granted her this honor due to the fact that Bangladesh offered sanctuary to 700,000 Rohingya refugees. However, what Foreign Policy Magazine refuses to acknowledge is while it is true that Sheikh Hasina granted refuge to Rohingya Muslim refugees, she has mistreated Rohingya Hindu refugees, just as her government abuses the Hindus who are indigenous to her country.
According to Shipan Kumer Basu, President of the World Hindu Struggle Committee, "The Muslim Rohingya rebels constantly tortured the Hindus in the area. Their aim is to free the Rakhine state from Hindu and Buddhist control, and to form another Islamic state." However, despite this reality, he claims that the Sheikh Hasina government has given preferential status to Muslim Rohingya refugees, while many Hindu Rohingya refugees, who were fleeing massacres and rapes by Rohingya Muslim rebels, seek to utilize Bangladesh as a transit point in order to get to India and other places as soon as possible for they do not feel safe in the country.
The time has come for the Trump administration, the US Congress and the international community at large to speak out against the atrocities that Sheikh Hasina's government commits against the Hindu community on a daily basis. Between January 1 and January 22, 2019, there have been 35 incidents of violence targeting minorities within Bangladesh. Unless action is taken soon, more incidents are likely to occur. Traditionally, in Bangladeshi politics, violence against the Hindu minority goes hand-in-hand with the systematic repression of democracy and human rights within the country. Therefore, it is of critical importance for Mr. Trump to speak out against the repression of the Hindu minority with the same level of passion that he condemned other human rights abuses within Bangladesh.
Rachel Avraham is the President of the Dona Gracia Mendes Nasi Center for Human Rights in Middle East (under formation) and is a political analyst at the Safadi Center for International Diplomacy, Research, Public Relations and Human Rights. She is also a fellow at the Haym Salomon Center, a news and public policy group. For over 6 years, she has been an Israel-based journalist, specializing in radical Islam, abuses of human rights and minority rights, counter-terrorism, the Israeli-Palestinian conflict, Syria, Iran, Kurdistan and other issues of importance. Avraham is the author of "Women and Jihad: Debating Palestinian Female Suicide Bombings in the American, Israeli and Arab Media," a ground-breaking book endorsed by Former Israel Consul General Yitzchak Ben Gad and Israeli Communications Minister Ayoob Kara that discusses how the media exploits the life stories of Palestinian female terrorists in order to justify wanton acts of violence. Avraham has an MA in Middle Eastern Studies from Ben-Gurion University. She received her BA in Government and Politics with minors in Jewish Studies and Middle Eastern Studies from the University of Maryland at College Park.