De-bunking Russian Language Myths About Ukraine and the Baltics
Since conflict erupted in eastern Ukraine in early 2014, regional observers have worried that Russia could instigate a similar incursion in the Baltics to 'protect ethnic Russians.' Seemingly – goes the narrative – the ethnic Russians are identified as those who speak Russian. The reality in these countries, however, is far from that clear-cut distinction.
Let's start in eastern Ukraine. Russian is the primary language spoken in the separatist-controlled areas of Luhansk and Donetsk, as well as the other three neighboring Ukrainian provinces (Kharkov, Dnipropetrovsk, and Zaporozhiya). There are scattered villages that speak Ukrainian, but Russian is the regional lingua franca. Somewhat complicating the demographics, to outside observers, is that all those provinces are also over 50% ethnic Ukrainian. The Russian-language dominance, and general political alignment with Moscow, came about from ethnic Russian labor migration to the region to support industrialization beginning in the 1930s. In this corner of Ukraine, language is not a divider, it's a common tongue. Moreover, many ethnic Ukrainians fight on the separatist side of the current conflict, another sign that the conflict is more one of regional identity than ethnicity or language.
Some 700 km and a 10-hour drive to the northwest, the residents of Ukraine's capital, Kiev, speak Russian widely. I spent four days here in July, checking in to my hotel, ordering food, and re-buffing street peddlers, all in Russian. I would hear Ukrainian at times, though rarely. This is all the more remarkable given that a 2015 survey by the International Republican Institute found 94% of Kiev residents to be ethnically Ukrainian. On the other hand, I found government signage, public transportation, and advertising to be overwhelmingly in Ukrainian. "Yes," responded an office worker whom I had just met (who in conversation often used a Ukrainian 'h' sound in place of a Russian 'g' sound). "That started happening after the Crimea take-over."
Another phenomenon has been Russian-speaking migrants to the capital. Rather than stay in a war zone, eastern Ukraine residents have joined families in Kiev and other cities. Additionally, after the 2004-2005 Orange Revolution, young social and legal reformers from other former Soviet nations, especially Georgia, moved to Kiev to 'carry on the torch' of greater independence from Russia and reducing corruption. Some learned Ukrainian, notably Georgia's former president Saakashvili, but as a backstop, all can rely on Russian.
As the former Soviet capital, and an important center of government and commerce, widespread use of Russian in the city is understandable. Ivan Patrulak, a historian in Kiev, distinguished last year between bilingualism and 'diglossia,' describing a situation when native speakers use different tongues under different circumstances. "In Kiev," he said, "Russian language is still considered to be prestigious."
Aboard a five-hour bus ride directly south to the port of Odessa, when one traveler suffered a minor seizure, all conversation about helping her was in Russian, as the default tongue and (still) common currency. While enjoying summer nights in that storied city, all my conversation, and that at nearby tables, was in Russian. Odessa, admittedly, is a linguistic exception, sharing many socio-historical traits with Crimea – a historically majority ethnic Russian population, and a major Black Sea port that has figured in Russian literature and military exploits. That same 2015 IRI poll however showed 68% of residents to be ethnically Ukrainian, and only 25% Russian.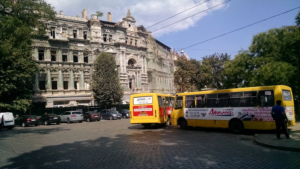 Latvia's ethno-linguistic breakdown is similarly complex. In the capital, Riga, for a few days in August in this regional hub and sprawling metropolis, I ordered food and asked directions in Russian. Sitting at a bar watching a sports event, I heard the staff alternating among Latvian, Russian, and English. Per demographics, it is no surprise that Russian is so widely spoken. The city (and Latvia as a whole) barely had an ethnic Latvian majority during the Soviet era, a trend that has roughly continued. The 40ish mayor is an ethnic Russian who in 2011 proposed making Russian the 2nd official language and enjoys the support of most ethnic Russians.
The population of the second-largest city Daugavpils, in Latvia's south-east corner, is overwhelmingly Russian. Russians make up significant populations in the two smaller eastern cities. Riga is in the center of the country and sits on the Baltic Sea. While portrayed in various foreign policy press as 'one of the countries where Putin could act militarily to protect ethnic Russian speakers,' that would be a difficult loaf to slice, unless they take half the country.
Estonia's linguistic geography is more clearly delineated. While 25% of the country's population are ethnic Russians, they are in two areas: in and around Tallinn, the capital, where Estonians make up 60% and Russians 31% of the population, and in and around Narva, on the north-east border with Russia, where ethnic Russians number just over 70%.
With Tallinn's refurbished Old City as a UNESCO World Heritage site, and the country's investment in IT infrastructure and start-ups, the country has won international praise for its planning insight and economic growth. Largely shut out of these developments, however, has been the ethnic Russian population.
After independence in 1991, there seemed to be two Estonias: the central and western regions, and Narva. Narva's industry was soon privatized, tossing thousands out of work. A further burden has been a citizenship law requiring ethnic Russians to achieve a passing ability in Estonian language, which many (mostly older residents) have refused to do. As 'non-citizens,' they carry a grey passport, reinforcing their undetermined status. In recent years the narrative of a poor, rights-bereft population of ethnic Russians in Estonia's east, who only watch Russian TV, has made its way from foreign correspondents' notebooks into the plots of television dramas.
After eastern Ukraine erupted in 2014, Tallinn officials shared the fears of others: a Kremlin-backed incursion to re-claim ethnic Russians as their own. Since then, various efforts have sought to spur investment in Narva and reach out to the local population, to emphasize inclusion. In one effort, creative directors from Tallinn are staging dramatic and musical productions with cross-over themes in a local factory space that was once the largest cotton mill in the Soviet Union. The University of Tartu (Estonia) has opened a campus in Narva to give locals the opportunity to earn advanced degrees. Language teachers are volunteering time to hold coffees where Russians can practice Estonian language. And in a sign of government buy-in, Estonia's President Kaljulaid has put her weight behind these initiatives, intending to propose Narva as a European Capital of Culture when Estonia receives the mantel in 2024.
With sizable Russian minorities in several of these countries, Kremlin-backed media outlets continue to promote the idea of simmering ethnic conflict and culture wars, at its least to promote internal chaos, or at most to encourage separatist activity. Ukraine is at war over regional identity, a separate issue from language; Latvia, at least in urban areas, appears to have integrated rather than separate ethnic populations; and Estonia is taking steps to integrate its ethnic Russian population in the east.
After exploring each of these cases, and given their unique dynamics, there is little suggestion that ethnic Russians in these countries are clamoring for their own separatist state, or encouraging incursion of Russian troops. While mandatory language laws can complicate integration and raise tensions between ethnic groups, minority groups should understand that such steps are taken in defense of the primary language and culture. Both Estonia and Latvia, each with under 2 million residents, need a mechanism to safeguard their language, with 145 million Russian-speakers living next door. Russian state media campaigns emphasizing ethnic discord in these nations certainly gain traction when ethnic Russians' rights and economic opportunities are compromised. However, with continued engagement of the ethnic Russian communities, especially in Estonia's Narva, greater ethnic integration should greatly reduce the risk of separatism.