Op-Ed: Do Hindus in Bangladesh, Kashmir and Pakistan have a future?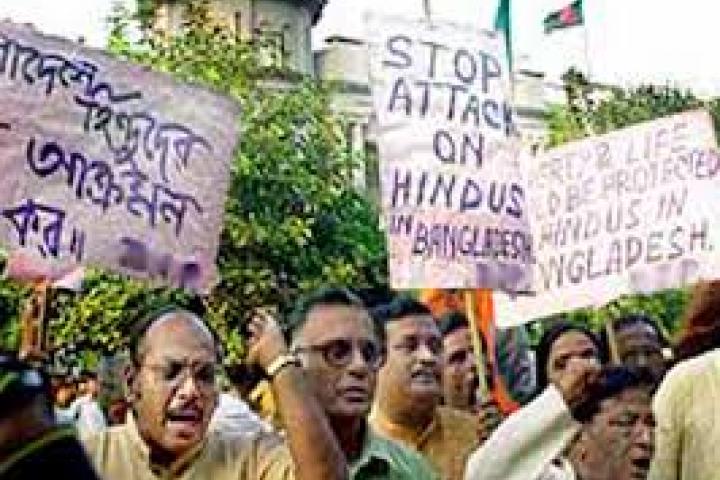 Following the recent terror in Kashmir, will Hindus be forced out of every area in the Indian subcontinent that presently has a Muslim majority?  
Last week, a grenade blew up in Kashmir, injuring 18 people.  This incident occurred after a Pakistani Islamist terror group murdered 40 Indian soldiers in the disputed region, which both Pakistan and India have fought over for decades.  Jaish-e-Mohammed, a Pakistani Islamist terror group, took responsibility for both attacks.  In the wake of these two incidents, what is one of the most picturesque and colorful regions of India is now suffering gravely.  However, this beautiful region of India was not always so bloody. 
In the past, there were no radical Islamism in Kashmir and Hindus were the majority in the area.  At that time, Kashmir was peaceful.  But since the beginning of the first millennium, radical Islam started to dominate in the region.  With the rise of radical Islam in Kashmir, Hindus were raped, murdered and forcefully converted to Islam.  Due to this reality, only 1.84% of Kashmir is Hindu today.  In light of this, one must ponder, do Hindus have a future in any of the Muslim lands in the Indian subcontinent following the rise of radical Islam in the area? 
Shipan Kumer Basu, President of the World Hindu Struggle Committee, proclaimed: "No one is paying attention to the plight of Hindus in Bangladesh.  The torture of Hindus there began in the early 20th century.  Under the British, thousands of Hindus were murdered in a riot in Dhaka.  10,000 Hindus were massacred in 1946 in Noakhali.  Numerous Hindu women were raped as well while others were forcefully converted to Islam.  At that time, Hindus started to flee the area for India."
"Later on, during the Liberation War in 1971, Pakistani soldiers massacred Hindus and raped their women en masse," he added.  "More and more Hindus proceeded to flee to India.  Since then, the Hindus of Bangladesh continue to flee for the murder, rape and forceful conversion of Hindus never came to an end."  In fact, within the past year, 107 Hindus were murdered, 25 Hindu women were raped and 235 Hindu temples were vandalized in Bangladesh. 
The persecution of Hindus does not occur in a vacuum.  The oppression experienced by the Hindu minority begins with incitement in the educational system.  In a school textbook titled "Islamic Religion and Ethics," which was issued by the Bangladeshi government, Hindus are portrayed as liars, property embezzlers, and even worse than animals.  According to Basu, over the past few years, Hefazat-e-Islam has been demanding that the government remove all stories, poems, essays and plays written by Hindus and other non-Muslim writers from the school curriculum.  He noted that subsequently, such writings were partially removed from secondary school books. 
Mendi Safadi, who heads the Safadi Center for International Diplomacy, Research, Public Relations and Human Rights, proclaimed: "This approach displays more than anything the radical Islam of Sheikh Hasina's government, a policy which encourages and fosters early childhood terror.  This is the kind of terrorism that the international community needs to untie and fight against, an ideology that begins in the schools and mosques of radical governments like Bangladesh."    Safadi's statement is backed up by the head of the Workers Party, Rashed Khan Menon, who noted that Sheikh Hasina has sown the seeds of fundamentalism by partnering together with Hefazat e-Islam.    
The plight of Hindus in Pakistan is even worse.   Recently, Pakistan's Punjab Information and Culture Minister Fayyazul Hassan Chohan described Hindus as "cow urine drinking people." It is true that Pakistan's new Prime Minister Imran Khan did sack that minister over his remarks.  Furthermore, he did order a probe into an attack upon a Hindu temple within the country.   However, at the same time, he also continues to support the Blasphemy Law, which is often used as a weapon against Hindus, Christians and other minorities in Pakistan. 
For example, in one case sited by the Pakistan Christian Post, a 14-year-old minority girl was raped, abducted and forcefully converted to Islam.  She was forced to marry one of her captors as well.  Her father fought hard to get her back and managed to do so.  However, under the Pakistani legal system, in retaliation, he could face blasphemy charges if his daughter ever chose to return to the religion of her ancestors.   Under Pakistani law, one must have four male witnesses to prove any crime.  This law permits the rape, robbery and murder of minorities within Pakistan with impunity.  And should India be forced entirely from the Kashmir region, these are the kind of atrocities that the Hindus remaining in Kashmir can expect. 
And sadly, under the Sheikh Hasina government, Bangladesh is heading in that direction of Pakistan too.  As Safadi noted, "Every time, we see more crimes against minorities, restrictions on freedom, etc."  He insists that this must happen or else Bangladesh will become just another Pakistan or Kashmir, a place where Hindus won't be granted the right to live. 
And as Hindus are forced out of more and more Muslim majority countries in the Indian subcontinent, the radical Muslims become emboldened to take even more.  According to the Indian media, there are plans by the Indian Muslim Congress Party to have Muslim only hospitals and to have free electricity for mosques and churches but not Hindu and Sikh places of worship.  There are also reports that they have a manifesto which seeks to give preference to Muslims over Hindus for employment and educational opportunities.  In fact, they reportedly give financial incentives to Muslim students only.
Safadi noted that for a hospital to give medical treatment to Muslims but not Hindus, Christians and Sikhs is a clear example of apartheid: "We have passed on this data to the EU Parliament and the US Congress.  Now is the time for the world to unite against the seeds of terror planted by the Bangladeshi government and to impose economic sanctions against the Sheikh Hasina government."