Narendra Modi re-elected Indian Prime Minister: "An opportunity for Bangladesh's minorities"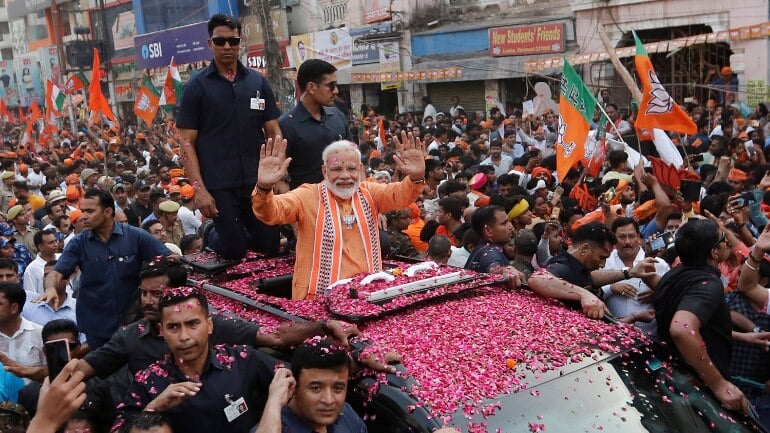 In honor of the re-election of Modi, Shipan Kumer Basu, the President of the World Hindu Struggle Committee, declared: "Under your leadership, you will play an important role in protecting the oppressed minorities in Bangladesh, who are presently being slowly and gradually ethnically cleansed from their ancestral homeland."
According to the BBC, Indian Prime Minister Narendra Modi was just re-elected and thanked the people of India for giving him a "historic mandate" for the next five years, after he won a land-slide victory in the general election.  "We all want a new India," he proclaimed.  "I bow down and say thank you."  Modi's Bharatiya Janata Party (BJP) is projected to get about 300 out of the 543 seats in the Indian Parliament.
Following Modi's victory, US President Donald Trump tweeted: "Congratulations to Prime Minister Narendra Modi and his BJP Party on their big election victory.  Great things are in store for the US-India partnership with the return of PM Modi at the helm.  I look forward to continuing our important work together."
In a public statement, Canadian Prime Minister Justin Trudeau stated: "Oh behalf of the government of Canada, I congratulate Prime Minister Narendra Modi on his re-election.  I look forward to continuing to work with him to improve the lives of Canadians and Indians alike through education, innovation, investing in trade, investment and fighting climate change."  
Israeli Prime Minister Benjamin Netanyahu personally called Modi and congratulated him.  The conversation was posted on his Facebook page: "Narendra my friend, congratulation.  What an enormous victory!  I hope that I can see you very soon, as soon as you form a government and as soon as we form a government.  There is much to discuss on so many things.  Thank you for your congratulations on my victory but there is one difference.  You don't need a coalition.  I do."
On Twitter, Netanyahu tweeted: "Heartfelt congratulations my friend Narendra Modi on your impressive victory in the elections.  The election results are more a validation of your leadership and the way in which you lead the largest democracy in the world.  Together, we will continue to strengthen the great friendship between us and between India and Israel, and bring it to new peaks.  Well done, my friend."
Modi's government has been a strategic partner for both the State of Israel and the United States of America.  Under Modi's leadership, India is expected to clamp down increasing upon radical Islamist terror groups in Pakistan and against China's growing dominance in Asia.  Both of these strategic policies promoted by Modi will make him an ideal friend for the United States of America.  Aside from the US, Israeli-Indian-relations have blossomed under Modi's leadership to an unprecedented level.  Modi was the first Indian Prime Minister to ever visit Israel.  His re-election thus opens up many doors for a better trilateral relationship between Israel, the US and India.    
However, Modi's re-election was not just welcomed in the West.  The Hindu community in Bangladesh also was very excited about his electoral victory.  In honor of the re-election of Modi, Shipan Kumer Basu, the President of the World Hindu Struggle Committee, declared: "I congratulate Narendra Modi, the honorable prime minister of India for being elected again on behalf of Mendi Safadi, the head of the Safadi Center for International Diplomacy, Research, Public Relations and Human Rights, and Bangladeshi dissident Aslam Chowdhury. I am feeling proud because you have been able to climb to power in India for a second time."
"Under your leadership, you will play an important role in protecting the oppressed minorities in Bangladesh, who are presently being slowly and gradually ethnically cleansed from their ancestral homeland," he noted. "I urge you to promote a free and fair election with international observers within Bangladesh so that ordinary Bangladeshis will have the opportunity to rise to greatness in the same manner that India has under your leadership." 
Abishek Gupta, the President of the Indian Chapter of the World Hindu Struggle Committee, added: "For the first time in Indian politics, we have witnessed pro-incumbency.  This was due to the great work done by Modi over the past five years.  Modi has worked for the benefit of all age groups.  The Indian economy has become stronger, the army is more confident and India has really enhanced its prestige across the world.  Not only the BJP workers campaigned for Modi but so did the common man in India.  Nationalism, honesty and dedication won.  Congratulations to Modi from everyone in India."