Malaysia's Foreign Policy Balancing Act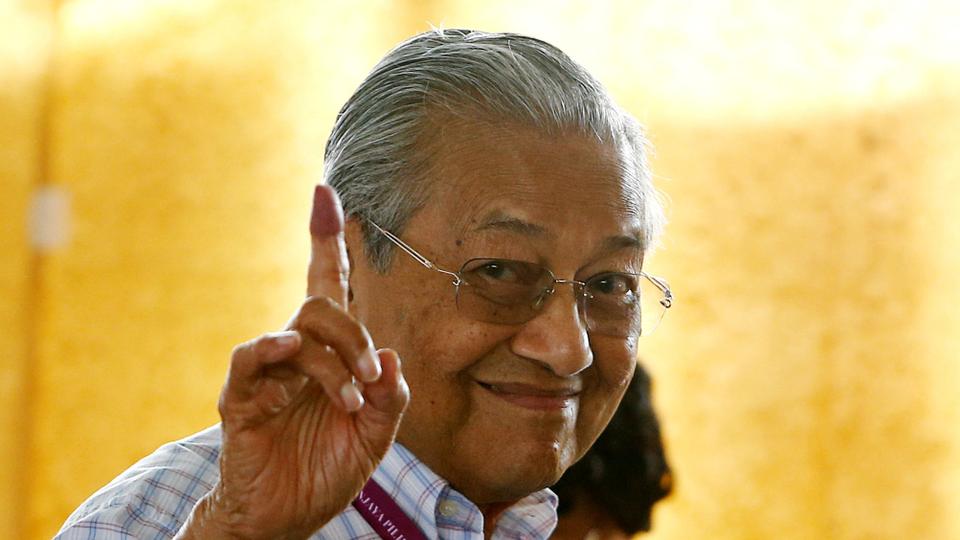 One year on since the 2018 electoral victory, Malaysia's Pakatan Harapan government, led by Prime Minister Dr Mahathir Mohamad, has kept the main thrust of foreign policy of past governments of the Barisan Nasional. But slight readjustments have been made to reorient Malaysia's foreign policy to the center, enabling Pakatan to strive for more balance in Malaysia's foreign bilateral relations.
The strategic idea is to reinforce Malaysia's nonaligned posture and pragmatic equidistance between two equally important countries so as to derive domestic benefits. As with Barisan, Pakatan conducted Malaysia's bilateral relations through the lenses of domestic exigencies and economic advantages.
BALANCING CHINA AND JAPAN
Former Malaysian Prime Minister Najib Razak was criticized for being too close to China, while Mahathir was keen on looking more to Japan, as a return to his Look East policy of the 1980s. This was to learn from Japan on how to hasten social and economic development in Malaysia.
Mahathir opted for some distancing from Beijing, being wary of China's assertive regional behavior, Malaysia's geopolitical constraints as a small state, and fragility of localized Malay-Chinese relations.
Mahathir's arguable heir-apparent, Anwar Ibrahim, is one of the few Muslim statesmen to have criticized China's crackdown on its Muslim minority in Xinjiang province.
Mahathir is however not anti-China, viewing China as a valuable trading partner for Malaysia. But he is mindful of Malaysia being caught in China's debt trap and losing part of its sovereignty.
One of Pakatan's foreign policy successes was to demonstrate that it is possible to bring China back to the negotiating table. This was reflected in Mahathir being able to renegotiate a more favorable deal with China on the East Coast Rail Link project signed by Najib's government.
BALANCING SAUDI ARABIA AND OTHER ISLAMIC COUNTRIES
Najib was also criticized for positioning Putrajaya too close to Riyadh at the expense of Tehran and Ankara for example. This courtship allegedly led to a massive transfer of money to Najib's personal account, but was later denied by the Saudi royal family after Najib lost the election.
The closeness of Najib's government with Saudi Arabia appealed to the more conservative Malaysians, but it also engendered pushback from the more progressive segments due to Saudi Arabia's illiberal interpretation of Islam and the attendant Arabization of Malay culture.
Pakatan therefore took a strategic decision to reorient Malaysia's foreign policy to befriend all Muslim countries in the Middle East including Saudi Arabia but not excluding Iran and Turkey. Mahathir scrapped the idea of establishing a Saudi-funded King Salman Centre for International Peace, and withdrew Malaysian troops from Saudi Arabia to avoid being dragged into the Yemeni civil war.
Given Anwar's friendship with Turkish President Recep Tayyip Erdogan, he was keen for Malaysia to forge a more constructive relationship with Turkey, to the chagrin of Erdogan's critics.
As with the Barisan administration, Malaysia under Mahathir's Pakatan government will also continue to remain a staunch supporter from Southeast Asia, along with Indonesia, of the Palestinian cause.
BALANCING SINGAPORE AND INDONESIA
Mahathir's government wants to bring more balance to bilateral relations with neighbors Indonesia and Singapore, although this is likely to be tilted towards Indonesia.
Although Najib's critics perceived that he was too close to Singapore, the end-result was that Malaysia-Singapore relations were the best they had ever been under Najib's watch.
But Mahathir's priority appears to be Indonesia, the first ASEAN country he visited after his electoral victory. He and President Joko 'Jokowi' Widodo talked of developing a joint car, protecting the palm oil industry from the European Union's anti-palm oil campaign, and together preserving the principle of 'ASEAN centrality' in Southeast Asian affairs and strengthening ASEAN cohesiveness.
Malaysia-Singapore relations started off positively, with Singapore's Prime Minister Lee Hsien Loong visiting Malaysia to congratulate Mahathir on his electoral victory. But they petered out with Malaysia's deferment of the high-speed rail project and haggling over water prices.
Relations reached a nadir as a result of a political tussle over the use of Malaysian airspace for landing at Singapore's Seletar Airport, and disagreement over port limits and maritime boundaries after Malaysian vessels encroached into what Singapore staunchly believes to be its territorial waters.
Bilateral turbulence is likely to continue in Malaysia-Singapore relations due to Mahathir's historical antipathy towards Singapore, and the domestic political fragility in Malaysia.
Fortunately, Malaysia and Singapore are mutually amenable to face-to-face meetings or third-party arbitration to negotiate an amicable solution to any bilateral impasse. This is vital as both are each other's leading trade and investment partners, and it bodes well overall for regional stability.
BALANCING INDIA AND PAKISTAN
Malaysia drew closer to India than Pakistan under Najib, who visited India more than Pakistan. Najib's last India trip was in last year's election year, using it to court the Indian vote in Malaysia.
Mahathir however has yet to visit India during his first year as Pakatan's Prime Minister. This is despite India's Prime Minister Narendra Modi detouring from his visits to Singapore and Indonesia to congratulate Mahathir in Malaysia on his electoral win. In contrast, Mahathir reciprocated the visit of Pakistani Prime Minister Imran Khan to Malaysia in 2018 by going on a state visit to Pakistan in 2019.
Although Mahathir may visit India in his second year, as he considers India a key trading partner for Malaysia, he will opt for closer relations with Pakistan. This is a return to the past where there was a bent towards Pakistan during Mahathir's first tenure as prime minister.
Tilting towards Pakistan can be attributed to Mahathir's propensity for closer relations with countries either in the developing or the Islamic world, both of which Pakistan qualifies.
The rise of Hindu nationalism in India, which would discomfit the Malay-Muslim majority in Malaysia, and the reluctance to deport controversial preacher Zakir Naik to India could have also factored into the strategic calculation of Mahathir's government to improve Malaysia's ties with Pakistan. The idea is to ensure a more balanced relationship between India and Pakistan.
THE BUCK STOPS WITH MAHATHIR
The Prime Minister has traditionally been the ultimate decision-maker on Malaysia's foreign policy. For two months after the election victory, until Saifuddin Abdullah was deservedly appointed to the position, Mahathir was de facto foreign minister. This was epitomized in Mahathir's speech in Japan at the Nikkei talks on Asia's future, where he outlined Malaysia's foreign policy priorities.
One significant development was to cease appointing politicians as envoys. This was a shrewd move to keep politics out of the foreign service while further professionalizing the foreign ministry.
Cultivating a delicate balance in foreign bilateral relations will be the modus operandi of the Mahathir government. The primacy of economics along with national security and defense interests will remain an essential feature of Malaysia's foreign policy thinking under a Pakatan government.
The vagaries of domestic politics – primarily defined by Malay ethno-nationalism and the Sunni Islamic faith – will continue to determine the future course and trajectory of Malaysia's foreign policy. This is in congruent with a 'neoclassical realist' interpretation of Malaysia's foreign policy where domestic legitimation is a longstanding feature of governing Malaysia since the independence of the country.
Despite being a small state, Malaysia remains a respectable middle power with Islamic characteristics. Unless Pakatan loses the next election slated for 2023, more of the same in Malaysia's foreign policy can be expected in ensuing years under a Pakatan government, whether led by Mahathir or otherwise.