Plight of Hindus in Bangladesh Continues to Deteriorate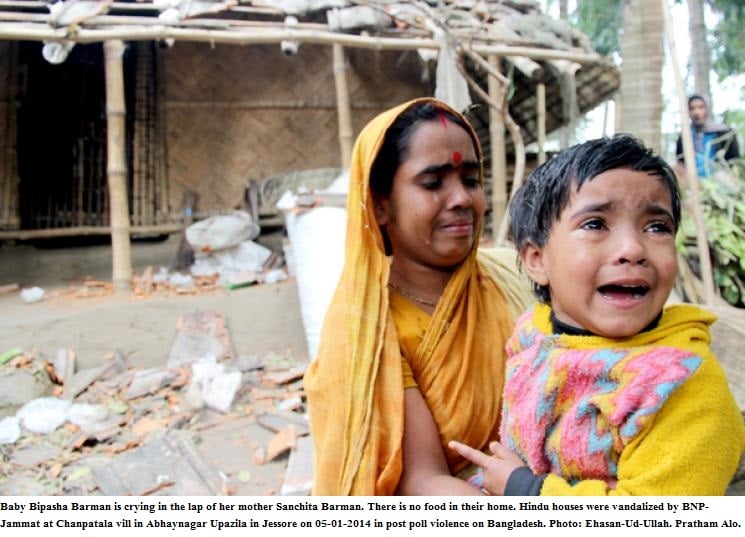 A recent report in the Times of India claimed that up to 2,447 members of minority communities in Pakistan, Bangladesh, and Afghanistan were recently granted Indian citizenship.  One of the major reasons why India expedited the process of granting these refugees Indian citizenship is because the plight of minorities in these three countries is horrendous.  While Western media outlets frequently report on the persecution of minorities in Pakistan and everyone in America knows that the situation in Afghanistan is horrendous, there is a lack of awareness in the West about the plight of Hindus in Bangladesh.
Dr. Richard Benkin, an American academic, gave an interview to the Sunday Guardian, where he proclaimed that not only jihadists threaten the continued presence of Hindus in the Asian country: "If it were only jihadis, things wouldn't be so grave. Jihadis are more easily identified and isolated; and although they have been gaining power steadily in Bangladesh for decades, they are not the only problem, not even the biggest one. What makes the situation so perilous is the range of support for the ethnic cleansing of Hindus in Bangladesh. Prime Minister Sheikh Hasina and her Awami League brand themselves as liberals and pro-minority but they have held near monopolistic power since 2009 and the open assault on Hindus continues unabated."
"The people who carry out the attacks on Hindus—the shock troops of ethnic cleansing—come from across the Bangladeshi populace," he noted.  "Apologists might tell you it's done with the hope of some small financial gain and not out of hatred but that does not absolve them of any guilt. Would you murder your neighbors to get their homes? Of course not but these Bangladeshis have no problem doing it if their neighbor is a Hindu. Pakistan's first census (1951) found Hindus to be about a third of East Pakistan's population. When East Pakistan became Bangladesh in 1971, they were less than a fifth; 20 years later under a tenth; and reliable estimates put them at about one in 15 today. You don't have to be Stephen Hawking to figure out that the next number is not going to be higher."    
A recent report published by Ain O Salish Kendra (ASK) found that at least 204 people fell victim to extrajudicial killings by law enforcement agencies in Bangladesh over the past six months alone.  They also reported that 630 women were raped over the same period of time and that 37 of these women were murdered after the rape.  In addition, at least 127 women were victims of sexual harassment during the same time period. Among the victims, eight committed suicide.  According to Shipan Kumer Basu, President of the World Hindu Struggle Committee, a disproportionate number of the victims are Hindus or members of other minority groups.
In recent days, a Hindu woman in Sakhira was raped.  The fingers of the victim were cut off of her hands and her toes were chopped off of her feet as well.  Afterwards, chemicals were poured over her body and she was declared dead.   Around the same period of time, Hindu cameraman Prashanta Kumar Das was murdered.   Meanwhile, in Barguna, a Hindu man was murdered in front of his wife.  According to Basu, "The increased murders are due to the lack of justice. In August 2017, the Bangladeshi High Court exempted six Awami League student leaders from the death penalty who were connected to the Biswajit Das murder, although eight Awami League student activists were sentenced to death in the lower court.  People are being murdered almost every day in the country. The administration is silent!  So many brutal, ruthless and barbarous incidents have happened in Bangladesh and it is getting worse by the day!"