Op-Ed: Remembering Bangladeshi Hindu leader Kalidas Baral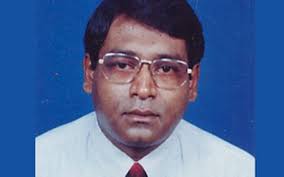 In recent days, Bangladeshi Hindus commemorated the murder of Kalidas Baral, a prominent leader in the Bagerhat district 19 years ago.  Kalidas Baral, who was a lawyer by profession, was shot dead on August 20, 2000. He was the President of the District Puja Udjapon Parishad, a central leader of the Hindu, Buddhist-Christian Oikya Parishad and a local leader of the ruling Awami League.  "He was a victim of political rivalry…the rivals within the party had decided to kill him as they could not face him politically," a relative told the Hindustan Times.
Shipan Kumer Basu, President of the World Hindu Struggle Committee, related: "Immediately after the killing of Kalidas Baral, there was a storm of massive protests and criticism throughout Bangladesh.  Bagherhat and the adjoining areas were 70 percent Hindu.  Besides, Kalidas Baral was a popular leader.  Sheikh Helal, brother of Sheikh Hasina, may never have become an MP if he remained alive.  That is why Hasina's family murdered a popular leader."
5 individuals were executed for murdering him but 9 were acquitted in 2013.   However, to date, the Baral family has not fully obtained justice for the Kalidas murder for many of the culprits who stand behind the murder remain at large.  For this reason, the wife of Kalidas was not satisfied with the verdict.  His family continues to suffer to date.  Aditas Baral, the daughter of Kalidas, faced four attempted murder attempts: on December 16, 2017, on July 3, 2018, on November 9, 2018 and July 25, 2019.  According to Basu, "No one can attack the Baral family without the direct assistance of local MP Sheikh Helal. One attack after another was carried out to erase the Baral family."  
In memory of his father, Amitav Baral wrote on Facebook: "They did not stop the bullets to your chest.  They were trying to erase your ideals. The touch of your body still makes my blood fury, even today. I never deviated from your ideals. Do not be intimidated for a moment by your killers."
He added: "I do not believe in vengeance or revenge politics. But Sheikh Hasina and her brother Sheikh Helal have been pushing us repeatedly. Until I can stop the harsh justice of Sheikh Hasina and Sheikh Helal, I will continue this struggle in the interest of obtaining justice."
Basu added: "Through the killing of the popular leader Kalidas Baral, the Hasina family wanted to send a message to the Hindus all over the country that you do not have any place in this country.  You must go to India. When the Hindus leave for India, the property will slowly become theirs. The country's ongoing ruthless Hindu repression proves this."
Sultana Kamal, the head of a non-governmental organization (ASC) Aine O Shalish Kendra, once said, "If Hindus stay in the country, they will get to vote. If Hindus go, then they will get property."  According to Basu, only for this reason, no Bangladeshi government has done anything good for the Hindus.
In conclusion, Basu proclaimed: "As I have said before, Sheikh Hasina is an extremist leader, who persecutes Hindus.   The present situation in her native district of Gopalgani, where Hindus are being killed on a daily basis, illustrates this point.  This persecution is carried out merely so that she can illegally stay in power.  To date, many Hindus in Bangladesh are afraid to speak out openly about how they are slowly being ethnically cleansed out of the country.  They are living in fear and terror dominates their lives.  Sadly, I don't think that this oppression will ever end unless Sheikh Hasina's government is ousted from power.   Her government is too in bed with radical Islam in order to be reformed and to tolerate minorities.   Therefore, a truly democratic government that will not only deliver justice to the Baral family but all Bangladeshi Hindus must be established at the soonest possible date."