What Israeli foreign policy changes can we expect following the 2019 elections?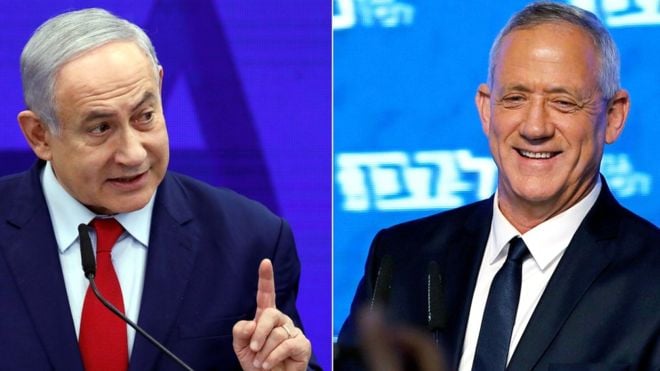 With 96% of the votes counted, the recent Israeli elections are increasingly looking like the contested 2000 elections in the United States.   Although Benny Gantz's Blue and White received 33 seats in the Israeli Knesset against Benjamin Netanyahu's Likud, who got only 31, it is unclear who will be the next Prime Minister of Israel. 
So far, the Likud-bloc has 55 seats and includes Yamina, United Torah Judaism and Shas but is 6 seats short of having the 61 majority needed in order to form the next government.  Meanwhile, Benny Gantz's Blue and White bloc has only 44 endorsements to be prime minister and they include the Democratic Union and Labor-Gesher.  Both Netanyahu and Gantz have vowed not to include the Joint Arab List in their coalition, which means their 13 seats are not under consideration.  However, it is possible that the Joint Arab List could recommend that Gantz be Prime Minister, even if they don't join the coalition.  If this happens, then Gantz would have 57 seats, which is still 4 seats short of the majority needed to form the next government.  
Regardless whether the Joint-Arab List is taken under consideration or not, Avigdor Lieberman's Yisrael Beiteinu Party and its 8 seats is left as the king-maker, who will determine the next prime minister.  Now, already Lieberman stated that he will only sit in a coalition that includes both Netanyahu's Likud and Gantz's Blue and White.   He refuses to sit in any other coalition.   He refuses to work with both the Haredi parties and the Arabs.  However, previously, Gantz stated that he is only willing to work with the Likud if they replace Netanyahu, which is something the Likud is unlikely to cooperate with him on.  He also is unlikely to want to rely upon the Arabs in order to enter into the premiership.  Furthermore, Netanyahu has now stated that he intends to work as a bloc together with the Haredi parties and Shaked's Yamina Party, which more or less excludes Lieberman, who refuses to work with the Haredi parties.  
Thus, unless someone learns to compromise, it is likely that there will be third elections.  Additionally, even if a coalition is formed between Netanyahu's Likud, Gantz's Blue and White Party combined with Yamina and the Haredi parties, which is the only semi-workable coalition possibility, it remains a huge question mark how long such a coalition will last.  Some of the more religious parties voiced objections to working with Yair Lapid's Yesh Atid, which is on a joint list with Gantz, although they are willing to consider working with Benny Gantz's Resilience Party if he is willing to break up his joint list.  
Since this is the situation, the foreign policy of Israel's next government remains a huge question mark.  Netanyahu had vowed that if he was re-elected, he would annex areas such as Hebron.  But presently, he does not have the mandate in order to implement such policies.  By being forced to join forces with Benny Gantz's Blue and White Party, Israel will be moving in a more centrist direction on the Palestinian issue.    Thus, annexing areas like Hebron would be out of the question.  However, he could still end up annexing the Jordan Valley and some of the major settlement blocs as Gantz speaking at the Tel Aviv International Salon stated that those areas should be annexed to Israel.   Israeli policy towards Iran and its proxies is unlikely to change.  So will Israel's policy towards Gaza.  Thus, Hamas will continue to fire rockets at Israel and Israel will continue to strike back while being careful to ensure that it does not become a major operation, which could jeopardize Trump's "Deal of the Century".    Israeli-Indian relations are likely to remain as is as well, although sources inside India say that Modi's government and the greater Hindu world would prefer to work with Netanyahu. 
However, US-Israeli relations are likely to be a bit different.  Gantz stated on the campaign trail that he does not think that Israel's Prime Minister should be so close to the Republican Party.  He declared that he believes that preserving bipartisan support for Israel is of pivotal strategic importance for the Jewish state.  Thus, provided that a government is formed, the next Israeli government based on these results is likely to engage in more outreach to the Democratic Party.   It is likely to seek a foreign policy that unites people, regardless of their ideological persuasion.  After all, that is the very nature of a unity government.   Although this will be bad news for President Trump, many of the Democratic Presidential Candidates will likely enjoy this development.  In sum, we can expect Israel to move in a more centrist direction.