Why Hong Kong Really Matters to Americans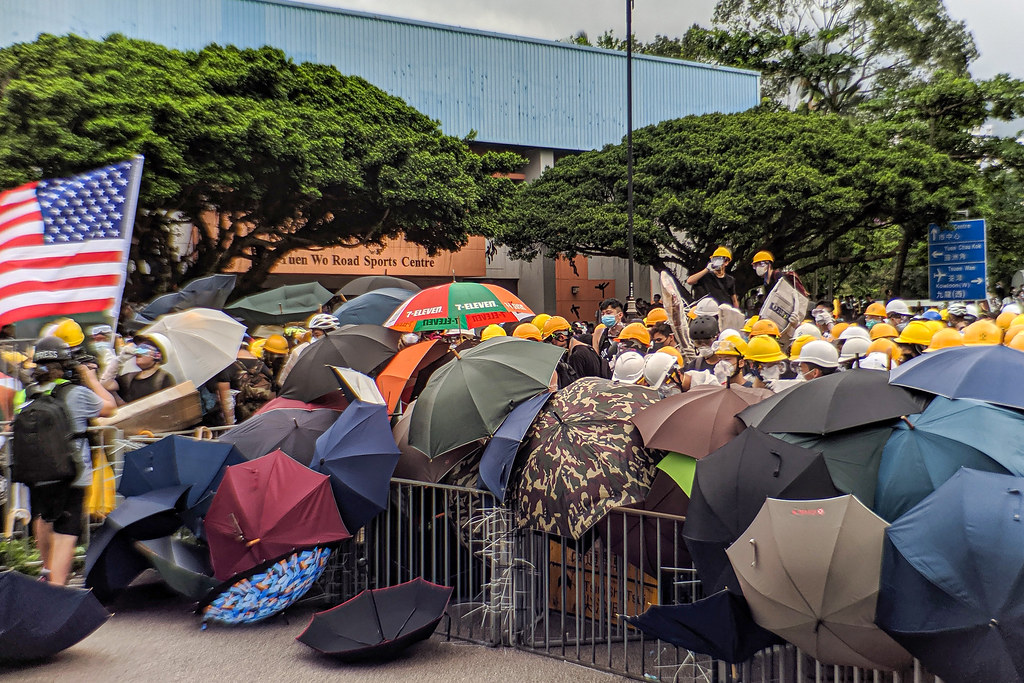 The ongoing pro-democracy demonstrations in Hong Kong put the question directly to Americans: just how important is freedom to us?
There can be no mistake that the demonstrators aim for democratic rule, that they have reason to expect it, and that China denies it to them. The formal structure of the Hong Kong government, and even the 2014 offer of suffrage, control the options available to any electorate that might be tolerated, to maintain Chinese control over the territory. The protests started in June, over legislation that would facilitate criminal extraditions to mainland China. The proposed law came only a year after Hong Kong booksellers offering pro-democracy literature had disappeared and resurfaced in mainland Chinese custody. Protesters are clear in their objectives: vandalism of local Starbucks franchises aimed at pro-Beijing franchisees, not the western brand. U.S. and British flags have occasionally been waved as symbols of democracy. Not only is democracy denied to Hong Kong, but freedom of expression and human rights stand endangered, and the demonstrators know it.
Americans know it too. The question is how far we will go, what we would give up, what costs we would accept, for the sake of rights and freedom for others.
Of course we cannot force democratic reform in Hong Kong, or stop any Chinese crackdown, whether of troops and censorship or in other forms. Some might point to our ongoing assertiveness in the South China Sea, or the Trump administration's moves against China in the form of trade measures and technology restrictions. But we undertake these for the sake of exports, job creation, property rights, or national security, Would we give up any material benefits for the sake of principle?
There have been historical cases where we sacrificed our advocacy of democracy in part because the country where it was in question seemed unlikely to sustain it, while other stakes loomed large. This does not apply to Hong Kong. The territory has a history of British administration and a lot of western-educated citizens, it is wealthy and informed, and even the hard core demonstrators speak in principled terms rather than of clan or tribal grievance. And while it is in many ways a different case, we know that Taiwan, another "second system" in the "one China" that we diplomatically espouse, has developed a working democracy. Democracy for these people is not a pipe dream that they don't understand, it is a reasonable and normal expectation that fits with much of their modern history. What other stakes in Hong Kong outweigh democracy?
Institutionally, our answers so far are not uplifting. Tech firms have pulled apps used by Hong Kong protesters. The NBA stifled a franchise owner who tweeted support for the protests. Hollywood has long conceded its freedom of speech to make movies and sell them in China. The U.S. government, even in as unusual a form as the Trump Administration, continues our decades of swerving from trade issues to technology issues to geopolitical tension to human rights remonstrance, and back.   Yes, Congress passed Hong Kong Human Rights and Democracy Act, but other acts passed simultaneously also addressed technology and trade matters.   The Chinese government could be forgiven for believing we care as much about our business deals as about freedom.
It may be that our decades of swerving balanced our widely varied interests. It may be that we maintained a pragmatic balance in sincere belief that Chinese development would lead to greater Chinese freedom. But today China challenges the full range of our interests, geopolitically in its Belt and Road Initiative and in the South China Sea, economically in its technology and trade practices, even in "soft power," through its Confucian Institutes. We may need, or choose, to contest any number of these challenges. But the question will arise – to what end do we contest China?
America should declare that any balancing of interests, any willingness to collaborate for mutual benefit, occur for us against a backdrop of fundamental values. Equal endowment of all persons with unalienable rights, and governments existing to secure those rights. Chinese leaders may or may not accommodate our motives, but this is where our deepest reactions will come from. And an America premised on unalienable rights and a China espousing Confucian conformity need not be implacably hostile. Within limits, there is room for collaboration on shared interests, each side working to make their beliefs work and patiently waiting for the other to evolve. But the limits are clear: we are open to closer relations as they might grow their respect for rights and freedoms, but we will give up the benefits and accept the costs of unfriendliness the more they suppress freedom's call. This, by the way, is not interference in Chinese internal affairs: our founding creed may tend to undermine non-democratic regimes, but asserting our nature as we shape external relations. Declaring our reasons for amity or enmity is our sovereign right. And those must be our reasons.
Will America stand up for its principles with Hong Kong? We have not had a consistent long-term policy toward China since the U.S. ping pong team went there in 1971. Now our policy must be clear, and clearly consistent with our own founding. The Hong Kong demonstrators put the question squarely to us. What will we stand for?