Op-Ed: Standing in solidarity with Bangladeshi anti-rape protesters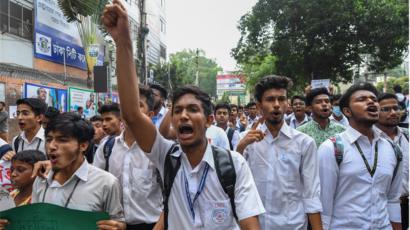 Al Jazeera recently reported that a group of Bangladeshi demonstrators are protesting against the recent rape of a student at Dhaka University, one of the most prominent schools within the South Asian country.   According to the report, the demonstrators are demanding justice, something which does not happen enough within the country due to the country's antiquated rape laws.  Shahela, a demonstrator, declared, "Rape is an unforgivable offense.  In Bangladesh, the punishment for rape is very slow."  It is time for this to change and we in the international community should stand in solidarity with the protesters. 
According to Voice of America, over 1,000 people have been protesting against Bangladesh's rape culture and the recent rape of this Bangladeshi student in particular.  The student was walking home from a friend's home when she was grabbed from behind, gagged, attacked and raped.  She is now hospitalized.  Deutche Welle reported that the protesters are demanding: "No more rape.  We want justice.  We want a higher punishment."      
In recent times, Bangladesh's rape culture has only gotten worse and this student at Dhaka University is far from the only victim.  The Dhaka Tribune reported that Ain O Salish Kendra (ASK), a Bangladeshi human rights organization, reported that the number of rapes doubled within Bangladesh over the past year.  The Dhaka Tribune reported that a total of 1,413 women were either gang-raped or subjected to rape in Bangladesh in 2019.  Dozens of them were killed afterwards and 10 others committed suicide following the rape.
According to the report, the number of rape victims was 732 in 2018 and 818 in 2017.   ASK claims that the number of rape victims in Bangladesh is actually much higher but many victims refrain from reporting such incidents to the police due to the fact that they don't believe the authorities will grant them justice.   According to the Dhaka Tribune, only 3% of rapists are actually convicted in Bangladesh, even though Bangladeshi law stipulates that rapists are supposed to get a death penalty.  
Farah Kabir, the country director of the Bangladesh Legal Aid and Service Trust, proclaimed: "Civil society organizations must advocate for the reform of rape laws, particularly to broaden the definition of rape. Is it acceptable for an aspiring middle income country and 'Digital Bangladesh' to still be bound by colonial era laws dating back to 1855? Rape is rape whether it occurs in the public or private sphere and we call for criminalizing marital rape, especially because we live in a country where the vast majority of women face intimate partner violence from their husbands. If we cannot guarantee basic protection of the 51% of the population who are women, then who are these laws serving and what purpose are they fulfilling? Reform to rape laws we have seen thus far have resulted from the continued advocacy of civil society and there is a need for this movement to continue until rape laws are reformed to ensure gender equality."
Former Bangladeshi Justice Minister A.F.M Abdur Raham concurred, "The definition of rape is yet to be updated, despite the enactment or amendment of special laws in 1995, 2000 and 2003. My experience in applying the Acid Control Act of 2002 and Acid Crime Prevention Act of 2002 over the years has led me to believe that there could be instructive lessons here for reform of rape laws, in terms of careful drafting and coordination of medical and psycho-social responses with legal responses. Action is necessary to reduce the incidence of rape, to focus on prevention and to ensure justice for victims. It is unfortunate, but whenever there is a discussion on amending any law, the lawmakers and parliamentary representatives think about increasing punishment rather than ensuring justice and prevention of rape incidents. The laws need to be amended but at the same time, we need to work harder to stop such incidents, including taking initiatives to build greater social morality in people."
In order to demonstrate their solidarity with the Bangladeshi anti-rape protesters, the international community should demand that the Bangladeshi government form an independent commission of inquiry in order to investigate the lack of justice for rape victims within the country and should update Bangladeshi rape laws so that they are in accordance with acceptable international standards and norms.  What is the purpose of having a law stating rapists must get the death penalty if only 3% of rapists are actually convicted and thus face justice?  Indeed, it would be better to live in a society that merely imprisons rapists yet ensures that the vast majority of rapists are locked up behind bars rather than roaming around the streets, continuously terrorizing women and girls.   The international silence over Bangladesh's rape culture should end now.  After all, Me Too is not an exclusively American movement.  It should be internationalized and include every nation across the planet.