Azerbaijan's President visits city of Lachin in the Karabakh region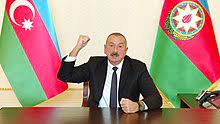 According to the statement signed between Azerbaijan, Armenia and Russia on November 10, 2020, the Armenians were supposed to return the city of Lachin to Azerbaijan within three years. The reason why Lachin was returned so late was that the Armenians living in Khankendi used the road through Lachin. Azerbaijan made an alternative route within 1 year and 8 months and demanded from the Republic of Armenia to evacuate the city of Lachin and return it to the Azerbaijani side on August 5.
However, the Armenians requested more time from Azerbaijan and stated that the city will be evacuated on August 25. Thus, on August 26, 2022, the Armenians left the city of Lachin and the Azerbaijani army entered the area. On September 21, Ilham Aliyev visited the city of Lachin and waved the flag of Azerbaijan on the central street in the center of the city of Lachin.
In response to Armenia's claim that Azerbaijan is waging war on Armenian lands, Aliyev stated that Azerbaijan has not violated the borders of any state, as there has been no demarcation of borders between the two countries: "If Armenia claims this, then let it show its borders.  Let me reiterate that we are ready for discussions and are treating the work of the Azerbaijan-Armenia commissions with great responsibility. We have collected all the maps. I want to say once again that we have all the maps, including those from the 19th century, the 20th century and even earlier, and those maps clearly show who is located on which land. Therefore, no-one can accuse us in the absence of demarcation."
Speaking in the city of Lachin, Azerbaijani President Ilham Aliyev emphasized that Armenia committed atrocities in Lachin as well as in other areas of Karabakh, placed about 1,400 mines in Lachin, and destroyed historical and religious monuments even after the end of the war. Despite the fact that Azerbaijan offered to sign a peace agreement with Armenia as soon as the war ended, he noted that the other side not only refused to sign the peace agreement, but also made new provocations.
In his speech, Aliyev also touched on the activities of international organizations such as the UN Security Council and the OSCE Minsk Group, which supported the Armenian side during the thirty years of Armenian occupation of the area in violation of four UN Security Council resolutions and did not impose any sanctions against it.
At the end of his speech, Ilham Aliyev, who spoke about the work done and to be done in Lachin, noted that the construction of the Gubadli-Lachin railway will soon begin in Lachin. Construction of 12 tunnels in the distance from Murov Mountain to Lachin city is also on the list of tasks to be done. In order to prevent problems related to electricity, the construction of Gülabird Hydropower Station in Lachin is also planned.
This speech was made at a time when Azerbaijan's embassy in France was attacked.  Associate Professor Maxime Gauin noted that there were two attacks, "one on the embassy and one on the Azerbaijani cultural center.  The one against the embassy was an unauthorized demonstration organized by the Dashnaks and the Parisian police did nothing.   They were not aware.   They did not know there was a demonstration that was there because the police did not receive any intelligence regarding the project."
He continued, "Then, there was a conference on the destruction of Azerbaijani cultural heritage in Yerevan, which was protested by Charjoum.   These people considered the Dashnaks too soft and left them to be their own group.   There, the police knew about the protest and arrived before the Armenians.  They were not allowed to approach the building.    But they were there, nevertheless."
According to Gauin,    "It reminds me of the situation 50 years ago.  In France in the 1970's, it was the Dashnak youth who incited the leadership to incite terrorism.   There were also people who left the party who felt it was not revolutionary enough.  These people became the branch of ASALA in France.   In the Facebook page of Charjoum, they make references to ASALA.   People must be careful in monitoring them as the worst may emerge from these persons."