The Plight of a Western Azerbaijani Refugee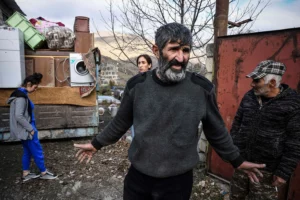 Although many people may not be aware of it today, the majority of Yerevan used to be Azerbaijani Turkish.  In 1897, there were 77,491 Azerbaijani Turks and only 58,148 Armenians in Yerevan Province.  However, after a brutal ethnic cleansing campaign, Yerevan is now majority Armenian and there are not any Azerbaijani Turks left in the region.       
In recent days, the Western Azerbaijan Community has made headlines, after the community published a public appeal to Armenian Prime Minister Nikol Pashinyan, claiming, "Ethnic cleansing is a crime against humanity and the safe and dignified return of Azerbaijanis expelled from Armenia is their legitimate right."  Around the same period of time, the Azerbaijani Parliament has held hearings on the claims of West Azerbaijanis.       
Following these developments, Bakhtiyar Nabiyev, the chairman of the Yasamal Regional Branch of the New Azerbaijan Party, who is also a refugee from Western Azerbaijan, decided to share his story with Western audiences: "I was born in Halavar village of Kirovakan city in 1978.The events started in February of 1988 when I was 10 years old. I was studying in 4th grade at school. The Armenians had already surrounded us, and there was only one entrance to the city of Kirovakan."
He noted that the Soviet Armed Forces were protecting the Azerbaijani Turks up until December 1988: "My brother was studying at university in Baku. Due to this reason, the elder population of our village applied to the airline company to send us a helicopter. We had a plain(flat) area at the foothill of the mountain and first of all the elderly, sick (ill) people were evacuated from their homes. My elder sister was among the first evacuations. The villagers were in bad conditions because those who wanted to leave the village were murdered by the Armenians."   
Nabiyev added that a refugee camp was built in Spitak, but it was attacked by the Armenians: "Generally, our people were worried and afraid of this process. The residents asked to evacuate disabled, elderly, children and women first because there was an expectation of an attack from the Armenians. There was a possibility that Armenians could attack and rape the women."
He recalled that he was part of the second evacuation from Western Azerbaijan by helicopter: "The villagers wanted to save their lives from this blockade. We landed in Qazakh village of Azerbaijani USSR. I still remember that I lost one of my shoes while taking off because people were pulling at me.  Everyone wanted to rush into the helicopter. I stayed in an orphanage for a while and they gave me a pair of shoes there. Then we stayed at the house of my brother's army comrade for a few days."
After a few days, an earthquake struck Spitak and the Armenians were busy with that: "Therefore, with the help of the military convoy, our grandparents were evacuated from their homelands. My father was among the last ones who left the village. He stayed in Kirovakan until May of 1989. After the earthquake, there was a power outage and a limited number of residents were living there. My father was saying that Armenians were coming to our villages with the help of Russian soldiers. They frequently asked him what he was doing there. And he responded that 'I can't leave the homeland of my grandparents.' Because my father and mother were buried here.' He left the village in May of 1989 and therefore the evacuation process from our homelands came to an end."
According to him, "We as refugees relied on Azerbaijan. Some of us lived in Qazakh. But my father stayed in Soviet Georgia. Then we all moved to Baku. We had cattle in Western Azerbaijan. After selling them, we had some money. We rented a house in Baku using that money. The first years were hard to tolerate. We faced a lot of difficulties. Then the Azerbaijani government took care of us. They created conditions for us to stay in Baku and we continued our life in Baku."  
In conclusion, Nabiyev explained: "Armenia is a mono ethnic country.  They don't want to see other nations or ethnic groups living next to them. They carried out the policy of ethnic cleansing with hatred. When I was a pupil, I won a regional Olympiad. The Armenians objected that 'didn't you find an Armenian pupil? Why would we award a Turkish (Azerbaijani) boy?' My father was the deputy director of agriculture affairs at my school. He said that Armenians conducted ethnic cleansing policy even in 1905-1906. Every year on April 24th, Armenians murdered Azerbaijanis. Azerbaijanis were oppressed by Armenians but we didn't want to leave our homeland. We lived there for centuries; we will be back!"