The Consequences of Arab Gulf States Normalizing with Iran Should Surprise No One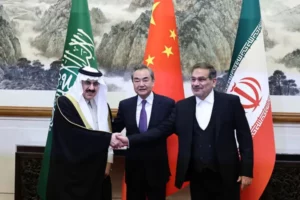 The announcement of the China-brokered Iran-KSA normalization plan triggered pearl-clutching around the globe. Some headlines even implied that Israel's PM Netanyahu was surprised by the news, even though the negotiations have been ongoing since early in the Biden administration's tenure. Indeed, there are signs that the Beijing-backed phase of the talks that began in Iraq had the administration's approval. Some US officials admitted a "cross-over" in interests between the US (or at least the White House) and China in reconciling Tehran and Riyadh. The reason behind Washington's tacit approval is Tehran's rapprochement with its implacable opponent advances a new nuclear deal.
Beijing's entry into this mix also serves another Biden administration priority: getting the world's worst polluter, China, to come to some arrangement on climate change. While none of this should have surprised the foreign policy establishment, Abraham Accords proponents ignored early warning signs – and continue to be astonished by the turn Gulf policy took immediately following UAE's and KSA's return to diplomatic relations with Iran. The impact of the "Winnie the Pooh" Accords is likely to impact the region on all levels – undermining the political benefits of the Abraham Accords, shifting the balance of trade in Iran's favor, and freezing the growing social and cultural ties between Israelis and their counterparts in Arab states. As some have feared, the Biden's administration's contradictory agenda of desperately wanting to take credit for enhancing and expanding the Abraham Accords through the Negev Forum and KSA-Israel normalization while simultaneously pushing for a normalization with Iran was unsustainable. Ultimately, Biden chose the prospects of advancing his climate change agenda over other priorities, including national security.
The political toll of the UAE's normalization with Iran were initially relatively subtle, but in the past few months the alarm bells should have been going off. In January 2023, for example, Abu Dhabi disinvited Prime Minister Netanyahu, allegedly over concerns about what he might say on Iran while visiting. Iran's rapprochement with UAE also accelerated normalization efforts with Qatar, its close proxy. Despite both parties being signatories to the Al Ula Agreement pushed through by the Trump administration in January 2021, the unstated "Cold War" continued behind the scenes. Doha and Abu Dhabi needled at each other through Western soft power institutions and competed in other areas globally. Moreover, Qatar-backed propagandists and activists were linked to several human rights-related campaigns against UAE, whereas UAE made no secret of its disdain for Doha's hosting of the World Cup championship, which was mired in corruption allegations.
In the days preceding the Iran-KSA normalization announcement, public discussions between UAE and Qatar officials in Doha indicated a rapid warming in relations. In the months leading up to these events, Emiratis reportedly stopped funding initiatives critical of Qatar's geopolitical agenda. Soon after Saudi Arabia's normalization agreement with Iran was publicized, a Muslim Brotherhood-linked Emirati professor, Abdulkhaleq Abdulla, who was recently reintegrated into the country's policy circles and warned of deterioration in relations with Israel, announced that UAE would be giving up its hosting bid for IMF and World Bank meetings in favor of "brotherly" Qatar, stating in a tweet: "The UAE withdraws its request to host the meetings of the IMF and the World Bank for the year 2026 in favor of the brothers in Qatar. This is Gulf cooperation and coordination in its most beautiful manifestations. Any success achieved by Qatar is a success for the UAE, and any success achieved by the UAE is a success for Qatar. The Qatari is Emirati and the Emirati is Qatari."
In another sign of Qatar's influence in UAE politics—as a result of growing Iranian regional dominance—the now-postponed Abu Dhabi Women's Forum was slated to host primarily left-leaning personalities and, although only a few women were invited from Saudi Arabia, all of them were linked to Muslim Brotherhood and Qatar-approved interests. One of the featured speakers serves with the Alwaleed Foundation. Prince Alwaleed bin Talal, detained in the 2017 corruption probe, was a contributor to the International Institute of Islamic Thought, a Muslim Brotherhood enterprise, and was a financial backer of Jamal Khashoggi, who, in the last year of his life, was openly backed by the Qatar Foundation International. Such a development would have been unthinkable even a year ago.
The volume of trade between Iran and UAE has expanded substantially; indeed, following the low-key normalization in the summer, UAE has reoriented its investment strategy to extend Iran's role in the region. Israel recently denied that UAE froze business deals, but difficulties have been ongoing since at least a year ago and Iran normalization may be a contributing factor. UAE trade with Iran is providing Tehran with Western goods. The US has sanctioned a number of entities in UAE over this trade, but has not been successful in curtailing blossoming economic relations. Even if most of the business with Israel continues as usual, the report that military purchases from Israel were frozen amidst political turmoil was reported in Israel based on official comments; Israel's denial may be nothing more than a face saving measure.
Meanwhile, the fallout from the Saudi normalization with Iran has been just as rapid. Israel's FM Eli Cohen's permission to attend a UN tourism event in Saudi Arabia was revoked. The Foreign Ministry recently used the wording "Israel occupation official' in its critique of an Israeli Minister. These developments are signs of the ongoing struggle between the Old Guard in Saudi Arabia and the more open reformist faction. The visa episode shows that conservative forces are prevailing, and that the Iran deal gives them cover for rolling back Crown Prince Mohammed bin Salman's measures to enhance Saudi relations with Israel.
The news of Iran-KSA normalization blindsided those who were most invested in the idea that Israel and Saudi Arabia were on the brink of normalization, a mindset fostered by rhetoric from Israel, the Biden administration, and low-level Saudi officials and diplomats – perhaps as a way to divert attention from the real talks. Saudi Arabia's prior outreach to the US offering normalization with Israel in exchange for regional security guarantees and assistance in civilian nuclear program development was most likely a feint, especially since negotiations about a US role in a civilian Saudi nuclear program have allegedly been going on for a decade. The stumbling block, it appears, has nothing to do with Israel, and everything to do with Saudi Arabia choosing to keep the option of weapons-grade nuclear enrichment on the table despite protestations from the US.
While young Saudis and Israelis started conversations around the halcyon days of the Abraham Accords may continue on social media, Saudis are likely to be increasingly cautious. Moreover, major events with Israeli participation are less likely in the near future. Without close collaboration on various social and cultural issues, people-to-people relations are unlikely to blossom. Moreover, the Saudi turn is impacting other regional actors. Bahrain, which just hosted an N7 series event on tech and start-ups, is reviving its ties to Qatar despite Qatar's continued occupation of Bahrain's islands, ongoing attacks on Bahraini fishermen, and various campaigns against Manama. Moreover, following KSA, which is seen as protector of Bahrain since the Arab Spring-era Iran-backed coup attempt, Bahrain hosted a low-key discussion with Iran. All of this points to Bahrain being forced to make significant concessions for its own protection. Of all the countries in the GCC, Bahrain is likely to try to stick with America and Israel as much as possible, but it cannot go against Saudi Arabia's path.
So, what's next? Morocco is highly likely to be the next target of the Biden administration's pressure to normalize with Iran even at the risk of downgrading with Israel. King Mohammed VI terminated relations with the Islamic Republic in 2018 citing Iran's nefarious backing of the Polisario, a local separatist group that engages in terrorism against Morocco. China already has a growing hand inside Morocco while the US has largely failed to capitalize on the opening left by the Trump administration's recognition of Rabat's sovereignty over the Moroccan Sahara. The Biden administration has prolonged indefinitely the much-awaited opening of the physical consulate in Dakhla, but appointed an ambassador who was a key point of contact on JCPOA.
Meanwhile, the Muslim Brotherhood party in Morocco, the PJD, for the first time openly challenged Morocco-Israel relations, calling out the FM Bourita for his closeness with Jerusalem, but de facto attacking the official foreign policy of the country set by the king. This open attack, likewise previously unthinkable, has drawn the sovereign, through the royal cabinet, into the extraordinary position of having to defend Morocco's national interests and to respond to an effort to rile up public sentiment and make Morocco look weak and isolated while Arab States are switching sides.
Morocco's defense ties with Israel pre-date the Abraham Accords and are particularly close; it is no wonder that Islamists, Russia, China, and others have focused on undermining Morocco's cybersecurity ties to Israel. PJD, like Islamists in Saudi Arabia, feel empowered by the Biden administration's endorsement of an anti-American hegemony in the MENA region. With Iran benefiting from anticipated investments by Saudi Arabia and flush with oil money, despite sanctions, Tehran may be empowered to expand its entry into North Africa via pro-Islamist factions in Morocco, especially if Rabat is pressured to restore relations by Biden with the help of other Arab states. Iran has already announced plans to restore relations with other states in the region.