Is Armenian public opinion an impediment for peace?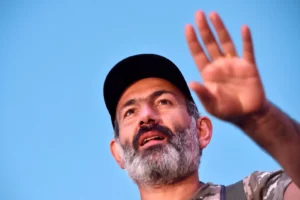 According to a recent Gallop Poll, about 82 percent of the Armenian population reject Armenian Prime Minister Nikol Pashinyan's statement recognizing Karabakh as part of Azerbaijani territory.    Some 86 percent of Armenians cannot imagine Karabakh Armenians having a future within the State of Azerbaijan.   The survey questioned a representative sample of 1,100 Armenians.
This latest survey comes after the International Republican Institute conducted a similar public opinion survey in 2021, where they found that 35 percent of Armenians believe that an acceptable solution to the Karabakh conflict is the recognition of Armenian Karabakh as a state, 34% of Armenians believe that Karabakh should be included as a region within Armenia, 16% of Armenians believe Karabakh should be a region within Armenia and 11% believe the area should be annexed to Russia.  
Only one percent of Armenians then were willing to consider other options that entail a compromise with Azerbaijan.   The same survey found that 90 percent of Armenians believe the relationship between Azerbaijan and Armenia is very bad, 77 percent of Armenians claimed that Azerbaijan posed the greatest political threat to their country and only 4 percent of Armenians believed that efforts should be made to improve the relationship with Azerbaijan.
While Azerbaijan laid out five principles for the establishment of peace between their country and Armenia in 2022, where they emphasized that it is pivotal that Armenia recognize Karabakh as part of Azerbaijan and only rule within its own internationally recognized borders, Armenians in contrast do not have a united vision regarding a peace treaty with Azerbaijan.    In fact, while Armenian Prime Minister Nikol Pashinyan has shown a willingness to compromise, there is heavy opposition in the Armenian Diaspora, in the Armenian Parliament and among Karabakh separatist leaders to any peace treaty being signed between Armenia and Azerbaijan.
In fact, ANCA in the United States is presently leading efforts to end US military aid to Azerbaijan and to sanction Azerbaijan's President Ilham Aliyev.  According to one of their recent press releases, "Senators Alex Padilla (D-CA) and Marco Rubio (R-FL) teamed up to introduce Anti-Blockade legislation today, backed by the Armenian National Committee of America (ANCA), and supported by a wide array of American civil society coalition partners, increasing U.S. pressure on Azerbaijan to end its nearly six-month long blockade of 120,000 Christian Armenians in their indigenous Artsakh homeland."  
This was accompanied by an ANCA online petition to the Association of Christian Lawmakers, asking them "to cancel a planned speech by Azerbaijani Ambassador Khazar Ibrahim, in solidarity with the Christians of Armenia –the world's first Christian nation, facing existential threats from Turkey and its oil-rich ally Azerbaijan."  Even as Armenia's Prime Minister Nikol Pashinyan comes closer to signing a peace treaty with Azerbaijan, which likely would recognize Azerbaijani territorial claims to Karabakh in exchange for Azerbaijan granting Karabakh Armenians equal rights and both Turkey and Azerbaijan ending their economic blockade of the land-locked Caucuses country, ANCA and other Armenian Diaspora organizations have not backed down with their anti-Azerbaijani initiatives in the US Congress and across the globe.
Meanwhile, within Armenia proper, Armenian opposition MP Gegham Manukyan (ARF) believes any peace deal that Armenian PM Nikol Pashinyan signs with Baku will not guarantee peace, but will open the door for further Armenian capitulations.  He accused the Pashinyan administration of backpedaling on the rights of the Armenians of Karabakh and merely recognizing the territorial integrity of Azerbaijan.  And if one considers the latest public opinion surveys by Gallop, Manukyan and other Armenians in the opposition can do much to hinder the successful completion of a peace treaty between Azerbaijan and Armenia. 
For this reason, Armenian public opinion remains the main stumbling block for the successful competition of a peace treaty between Armenia and Azerbaijan.  Thus, for the successful completion of a peace treaty, Armenian Prime Minister Nikol Pashinyan must do more than recognize Azerbaijan's territorial integrity over Karabakh.   He must also educate his own people to support the peace agreement or else the peace will not last.