Azerbaijan: A Potential Bastion for Christians in Karabakh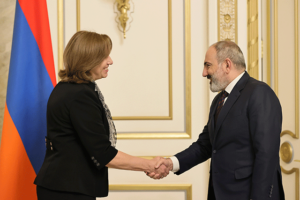 In recent days, US Ambassador to Armenia Christina Quinn has said that the United States believes that the Armenian people will be able to live safely in Karabakh: "We believe it is possible and we hope all parties will work together to make it a reality.   The US believes that this is the right approach.  We call on all sides to make joint efforts to ensure the rights and security are established."  Unfortunately, the American Ambassador to Armenia has faced a backlash within some extremist circles in Armenia for making this statement, yet that does not take away the truth of what she stated.
I have visited Azerbaijan four times and I can attest that Azerbaijan is a bastion for Christians in a region of the world dominated by countries like the Islamic Republic of Iran, who routinely imprison and torture Christians for seeking to practice their faith.    In Baku, I visited an operating Russian Orthodox and Catholic Church.   There are also numerous Christians who are thriving professionally in Azerbaijani society.   This is because Azerbaijan is a secular country, who believes in protecting all religious heritage sites and citizens, regardless if they are Muslim or not.   
Azerbaijan's President Ilham Aliyev stated last Easter, "Preservation and promotion of ethno-cultural diversity, rich multicultural values and centuries old traditions of tolerance in our society is one of the main directions of the state policy of the country.  Azerbaijan is one of the few countries with exemplary state-religious relations, where all-round attention and care is paid to the cultural heritage of different peoples.  In the conditions of national-spiritual solidarity, Christians of Azerbaijan live their traditions, religious beliefs, language and culture, and as citizens of the country, they take an active part in all spheres of our socio-political and cultural republic."
According to the US State Department's last report on Religious Freedom, "The constitution stipulates the separation of religion and state and the equality of all religions before the law. It also protects the right of individuals to express their religious beliefs and to practice religious rituals, provided these do not violate public order or public morality. The law prohibits the government from interfering in religious activities; it also states the government and citizens have a responsibility to combat "religious extremism" and "radicalism.""
The report continued: "Local experts on religious affairs, religious leaders, and civil society representatives said the general public continued to show tolerance of, and in some cases financially supported, minority religious groups including Jews, Russian Orthodox, and Catholics."  
The report added: "The constitution stipulates the separation of religion and state and the equality of all religions and all individuals regardless of belief. It protects freedom of religion, including the right of individuals to profess, individually or together with others, any religion, or to profess no religion, and to express and spread religious beliefs. It also provides for the freedom to carry out religious rituals, provided they do not violate public order or public morality. The constitution states no one may be required to profess his or her religious beliefs or be persecuted for them; the law prohibits forced expressions or demonstrations of religious faith."
According to the US State Department, "There is no religious component in the curriculum of public or private elementary or high schools; however, students may obtain after-school religious instruction at registered institutions. The Administrative Code prohibits clergy and members of religious associations from holding "special" group meetings for children and young people or forcing children to practice religion. The religious freedom law provides that religious education of children "should not have a negative impact on their physical and mental health."" 
Considering all of these facts, why should Armenians fear living among Azerbaijanis in Karabakh once peace is established between the two peoples?    Just as Jews, Bahais, Russian Orthodox, Georgians, Udi Christians, and Catholics manage to coexist peacefully with the Muslim population in Azerbaijan, why cannot the Armenians if they desire for peace to be upheld between the two peoples?   Thus, America's Ambassador to Armenia should not have been condemned for stating the obvious.