Wave of Bombings Hit New Delhi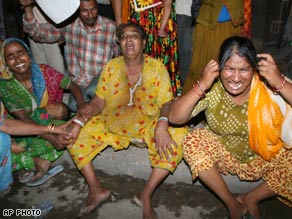 A wave of bombings swept across New Delhi on Saturday, killing 20 people and injuring at least 50.  While information is still coming in, multiple sources have confirmed at least six explosions in five different locations, with police defusing an additional two bombs.  Areas affected by the bombings were: Gaffar Market, Connaught Place, M Block Maret, and Barakhamba Road.  Authorities believe the explosives were hidden in backpacks and other small containers, and have shut down cell-phone networks to avoid further detonations.
An Islamic fundamentalist organization, the Indian Mujahedeen, has claimed responsibility for the attack.  The group is also blamed for prior bombings in other Indian cities, such as Bangalore and Ahmadebad.   The claims were sent via email to local news channel CNN-IBN, saying ""Do whatever you can. Stop us if you can. In the name of Allah, the Indian Mujahedeen has struck back again."
The Indian Mujaheheen is not a typical fundamentalist cell, but instead acts as an umbrella organization for various other terrorist movements, specifically Harkat-ul-Jihad-e-Islami and the Students Islamic Movement of India.   Authorities believe the alias is used to take pressure off of the more traditional terrorist institutions, as well as confuse investigators.
More detailed analysis of the Indian terror threat to come on Monday.
Photo by AP