Korea Summit: The Good, the Bad and the Ugly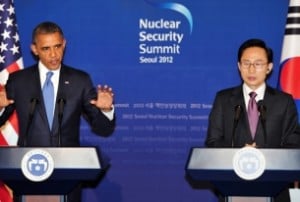 The good: Those many small incremental improvements in securing nuclear materials worldwide–the fruit of much labor by dedicated people, as laid out by Jodi Lieberman in a recent post.
The bad: The absence of any evident progress in dissuading North Korea from a satellite launch, which, if it occurs, will vitiate the earlier agreement with Pyongyang that appeared to be a breakthrough. Evidently we are back to square one, not knowing who really holds power in the North and what the country's ultimate intentions are.
The ugly: President Obama's unfortunate overheard remark to Medvedev about missile defenses and the upcoming U.S. election, which was worse than a gaffe. It is unseemly for a U.S. president to apologize to the likes of Medvedev or Putin for U.S. domestic political constraints. At least we have domestic political constraints.