Royal Pardon for Cambodian Opposition Leader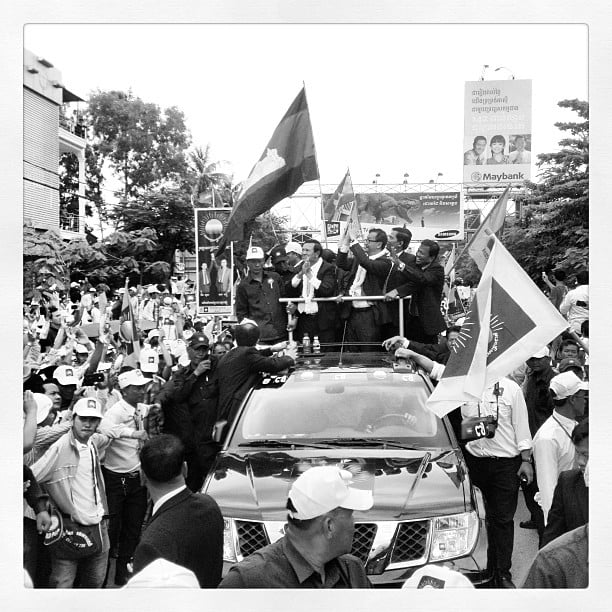 PHNOM PENH — Sam Rainsy, the leader of the Cambodian National Rescue Party (CNRP) returned to the country this past Friday, July 19th, after receiving a royal pardon from Cambodia's monarch, King Norodom Sihamoni. The 64-year old opposition leader went into self-imposed exile in 2009 after an arrest warrant was issued for his involvement in a dispute along the Vietnamese border. Mr. Sam Rainsy allegedly encouraged local Cambodians to remove demarcation posts along the border, nearly causing an international incident with Hanoi.
An estimated 40,000 supporters lined the streets from Phnom Penh's Pochentong International Airport to Freedom Park to enthusiastically welcome Mr. Sam Rainsy. Sources had previously indicated that some CNRP supporters were being financially compensated to take the streets, driving motobikes armed with the party's flag. However, the feeling at Freedom Park — from Cambodian and foreign observers alike — was that sentiments of celebration were an organic manifestation, and not something manufactured.
Sam Rainsy's return to Cambodia comes against a backdrop of the country's first general elections in ten years. His recrudescence is also a prerequisite for the vote to be perceived as legitimate in the eyes of the international community; many foreign donors, including the United States, had threatened to cut off Cambodia's foreign aid if certain democratic conditions failed to be met. The need for a credible alternative to Prime Minister Hun Sen's ruling Cambodian People's Party (CPP) was one such condition.
Ou Ritthy, a Cambodian blogger, recently noted that Sam Rainsy's arrival has benefits for both Rainsy and Hun Sen himself.
"Sam Rainsy has become popular again…and Cambodian people do not see him as a coward political leader anymore. So [there are] personal benefits for [Sam Rainsy] in this sense."
Hun Sen, for his part, gets the international recognition for holding legitimate elections. Furthermore, "Sam Rainsy's presence is also good [for] image showing that [Hun Sen is] a candid royalist leader-following the advice/footsteps of late King Father [Norodom Sihanouk] which was 'national reconciliation,'" according to Mr. Ou Ritthy.
Cambodia's general election will be held from July 27th — July 29th. I will be reporting from several polling stations around Phnom Penh and the surrounding districts in neighboring provinces throughout the election.
Photo: Erika Pineros/Erikapineros.com