Rough Sledding for Yingluck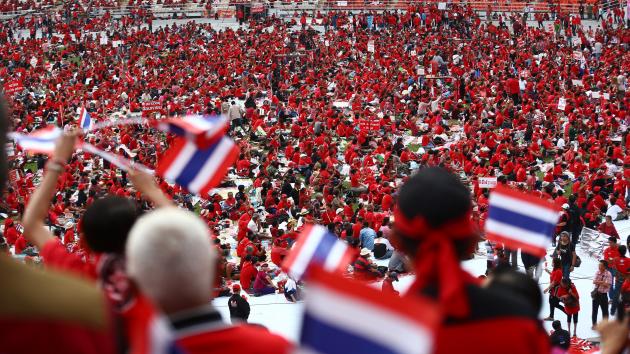 If you thought U.S. President Barack Obama was suffering from a political crisis in the wake of his problematic healthcare rollout, you should see the situation in Thailand these days for beleaguered Prime Minister Yingluck Shinawatra. A day after the World Court ruled in favor of Cambodia in a territorial dispute over an ancient temple ruin, Thailand's senate rejected an amnesty bill which would have paved the way for Ms. Shinawatra's older brother Thaksin to return to the country by a vote of 141-0. Yingluck's approval rating has plummeted to just 26.7 percent in a new poll conducted by the Bangkok Post.
Thais on all sides were disgusted with the proposed amnesty bill. The opposition and pro-monarchy Yellow Shirts, who want to see Thaksin serve a two-year prison sentence handed down several years back in absentia, essentially viewed it as permitting corruption and graft with impunity. The poor, rural majority Red Shirts, 90 of whom were killed in street protests in 2010, want opposition leader and former Prime Minister Abhisit Vejjajiva to face murder charges for those deaths. The bill would have prevented that from ever happening.
Large scale street protests have become synonymous with Thailand since the illegal coup of 2006 which removed Thaksin, a democratically elected billionaire, from the premiership. The demonstrations can sometimes have a carnival atmosphere about them, with street food vendors hawking everything from pad thai to Singha beer to fuel people of all ages including children armed with plastic noisemakers. At other times the protests have turned violent, with snipers and thugs armed with Molotov cocktails turning Bangkok's business district into a warzone. Apolitical Thais complain about the traffic created by such demonstrations.
But with the passing of time, previous loyalties are being disregarded. The Red Shirts appear to be splitting up into several different factions, with many growing tired of the Shinawatras. "Many people don't feel the same about Yingluck and Thaksin anymore," a Red Shirt leader is quoted as saying in a recent article in Foreign Policy.
The opposition Democrat Party, comprised of socialites, military personnel, and business leaders are considered bourgeois by most Red Shirt supporters; linking up in an uneasy alliance with the nation's plutocracy would be anathema to them. With growing suspicion of the Shinawatra's agenda, however, attention has turned to forming a new political party.
After Yingluck's disastrous handling of the historic floods during the 2011 rainy season — in which she sacrificed swaths of rice paddies belonging to subsistence farmers in order to divert the rising water away from Bangkok — it is understandable why the poor folk from the country's hinterland are fed up with Thailand's first female prime minister. Moreover, her pledge to fix rice prices for farmers in the wake of that environmental calamity backfired, causing public debt to soar and weakening demand for Thai rice abroad. Throw in the uncertainty of a frail and aging monarch, and a Muslim separatist insurgency raging in the south of the country, one could reasonably conclude Ms. Shinawatra is now in over her head.
The International Court of Justice's ruling that Thailand must remove all of its troops from the Preah Vihear Hindu temple grounds, as yours truly predicted would happen more than two years ago, merely added insult to injury.
The time is always ripe for a coup in Thailand, as history has shown repeatedly. But the way Thailand is currently fractured, both socially and politically, a military intervention would likely only make things worse.
Photo: The Nation (Thailand)