Cambodian Ruling Party Wins But Opposition Gains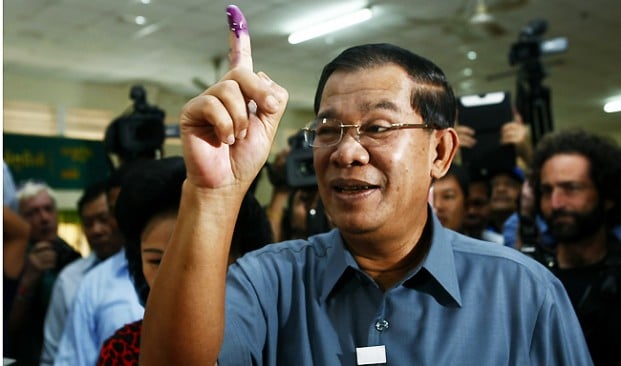 The ruling Cambodian People's Party (CPP) has recorded a victory in Cambodia's 2013 general election amidst widespread irregularities. Government spokesman Khieu Kanharith announced via Facebook, confirmed by independent sources, that the CPP won 68 seats, enough to give them a safe majority in the 123 seat National Assembly. The final official tally guarantees the CPP and its leader Prime Minister Hun Sen five more years of control of Cambodia's political system.
The Cambodian National Rescue Party (CNRP), the country's main opposition led by Sam Rainsy, were awarded 55 seats, a significant improvement in a race they were never expected to win. The CNRP ripped into the CPP's commanding 90 seat majority acquired in the last elections in 2003.
The royalist Funcinpec Party, which won Cambodia's first democratic election in 1993, were awarded no seats, rendering them all but irrelevant.
The election was not without incident. In Kandal and Takeo provinces, several Cambodians were arrested after physically assaulting ethnic Vietnamese individuals who were attempting to vote. It was unclear and, indeed, never made clear if the Vietnamese people were citizens of Cambodia or not. Naturally, only Cambodian citizens have the right to vote. However, many ethnic Vietnamese have resided in parts of Cambodia for decades, and may possess the necessary documents required to prove Cambodian citizenship.
Prime Minister Hun Sen was installed as the premier of the People's Republic of Kampuchea by the Vietnamese in 1985; opposition leader Sam Rainsy has demonstrated over the years an acute distrust of the Vietnamese, a xenophobic trait which manifested in an international incident at a border crossing between the two countries in 2009, leading to Rainsy's self-imposed exile.
In Phnom Penh's Stung Mean Chey district, violence broke out in a Buddhist pagoda, which was being used as a polling station, when several people could not find their name on the voter registration list. Others lodged complaints that their name had already been used by someone else. Some began throwing rocks in any and all directions, while others took their anger out on a nearby police cruiser, flipping it on its side and setting it on fire. One police officer fired about a dozen rounds of live ammunition into the air in an attempt to stop the carnage. Protesters responded by hurling loaded gas canisters onto the burning wreckage as explosions could be heard at least a half mile away. There were no reported deaths.
Moreover, concerns were raised over the quality of ink being used to cast the ballots; there were several rumors floating around social media that the ink could be easily washed off, thus allowing people to vote more than once.
In the past months, Prime Minister Hun Sen barely felt the need to campaign, such was his confidence of victory. But last week's return of Sam Rainsy generated a significant amount of momentum amongst CNRP supporters and sets the stage for a realistic opportunity for the opposition to take power in 2018.
For now, however, the CPP will celebrate its win irrespective of the loss of total seats. The most poignant question in the election's aftermath is whether Hun Sen decides to take a softer approach to govering or, as Michael Sainsbury recently termed it in an article in Foreign Policy, will Cambodia continue to be a "democracy by dictatorship?"
Photo: Asian Correspondent