Southeast Asia 2013 Review: A Region Deprived of Leaders and Hope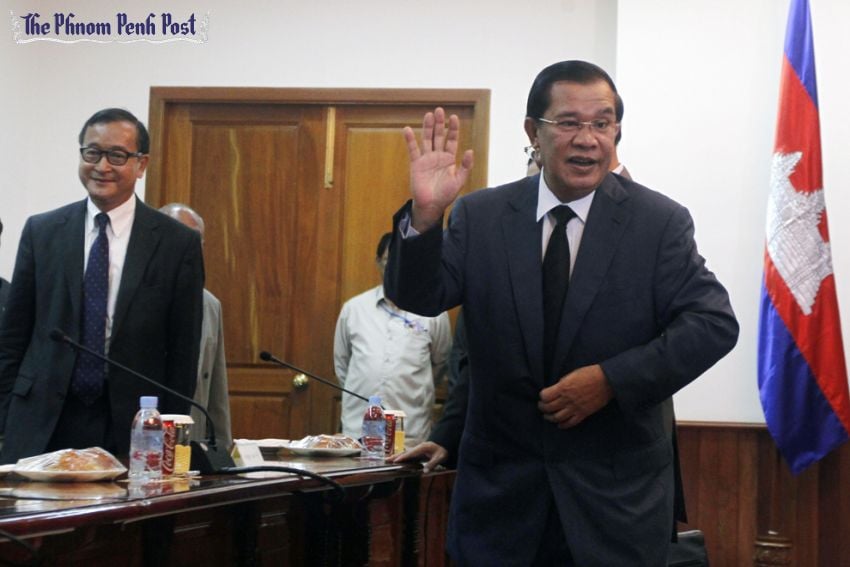 Until very recently, Ou Virak was President of the Cambodian Center for Human Rights. Being a human rights activist in Cambodia, a country with too many abuses in that category to possibly list here, is quite the daunting task. The government of Prime Minister Hun Sen and his ruling Cambodian People's Party (CPP) have notoriously silenced such activists in the past while presiding over a culture of corruption which affects quite literally ever sector of society from politicians to the police and military. The security services have violently broken up protests of both the political and economic variants, forcibly removed impoverished people from their homes, and imprisoned journalists who have had the gall to call the government out.
With all of these troubling events transpiring over the previous months and years, it is a testament to Mr. Virak that he has remained vigilant on the vile, xenophobic rhetoric being espoused by supporters of the opposition Cambodia National Rescue Party (CNRP) and its anti-Vietnamese leader, Sam Rainsy. After a deadly day of protests in September, I wrote for Foreign Policy Blogs:
Hun Sen was installed as the premier of the People's Republic of Kampuchea by Hanoi, a historical fact which has been a constant theme of Sam Rainsy's platform over the years. At times, this platform has been manifested in xenophobic, anti-Vietnamese rhetoric including an international incident at the border in 2009 which led to Rainsy's self-imposed exile to France.
The status of Vietnamese-Cambodians is likely to be a key issue worth watching going forward. CNRP distrust of the Vietnamese is acute, and some observers have suggested they could become targets for acts of violence.
"I want to fight repression," Virak told the Phnom Penh Post, "and I think a lot people are confused between fighting repression and just fighting the CPP."
One can imagine, then, his dismay when he discovered angry messages and some death threats on his Facebook page last week calling him yuon, a derogatory Khmer word to describe Vietnamese, after his plea for respect was broadcast. The  Orwellian overtones of CNRP supporters hitting the streets to protest for what they consider democracy and then exhibiting the same type of restrictions on free speech and curtailment of civil liberties that they now accuse the CPP of are, sadly, a bit too obvious. One might recall how the mantra of "Four legs good, two legs bad" on Animal Farm was gradually adjusted until it eventually came to be "Four legs good, two legs better."
What's more, is that Mr. Rainsy always seems to include the same type of derogatory wording in his public speeches, inciting the crowds into a racist fervor.
Historically, the roots of distrust run deep and it is not just the fact that Vietnam conquered Cambodia and installed the current leader. Many CNRP supporters, most of whom are too young to have been alive in the years immediately following the Khmer Rouge, talk about a decline in Khmer culture within the context of a moral relativism inimitable to the two countries' dynamic relationship.
A former Cambodian student of mine, whose name I'm withholding because she did not give me permission to use her words on the record, wrote this on her Facebook wall recently (spelling errors left untouched):
I just want to walk around my block n see only khmer n those foreigners who a just tourist n lawful workers. I dont want to open my eyes in the morning hearing Vietnamese talking. I dont want to go on vacation at our ancient city n see vn family who cant speak khmer live on the land. I dont like it when anywhere i go i see the pp n hear their language. M not recist, but for goodness sake it's our country. Why r there so many vietnamese?
This opinion is held by so many in Cambodia who view Hun Sen as nothing more than a Vietnamese puppet. There is no serious alternative in Cambodia beyond the CPP and CNRP; the royalist party, Funcinpec, failed to win a single seat in the National Assembly election in July and are all but irrelevant. With this type of leadership, there is much reason to be pessimistic for Cambodia's immediate future which looks to be just as miserable as its present is and past has been.
The lack of quality leadership is an unfortunate trait which has become manifest in most countries in Southeast Asia during 2013 as democracy has simultaneously become curtailed to a drastic extent.
In Thailand, the government has collapsed yet again in a development that has become par for the course in a country which has come to be defined by coups, protests, and general political chaos. As I recently wrote for The Diplomat:
It really was doomed from the start. Despite the promise, the potential, and the hope of Yingluck Shinawatra — the nation's first female prime minister — Thailand was in need of an exceptional person to heal the country's bitterly divided and stratified society in 2011. The business class needed reassurances that Yingluck's administration was not going to set off on a Hugo Chavez-inspired populist redistribution of wealth; the working class wanted guarantees of a more socially just state of affairs. In the end, Yingluck tried to play the role of the great compromiser, pleasing no one, enraging everyone, and precipitating the collapse of her Pheu Thai-led government. An exceptional person she evidently is not.
The fissures from the Shinawatra era run deep, and are not likely to be solved anytime soon:
It is still quite possible that Yingluck and the Pheu Thai party will emerge victorious from the snap elections scheduled for early February. Win or lose, however, the divide between haves and have nots runs very deep in Thailand. The differences between the two sides cannot be solved simply with an electoral mandate for one side or the other after an election. Throw in the uncertainty of a frail and aging monarch, and a separatist insurgency still raging in the south of the country, and one can adduce that Thailand's problems are likely to remain as paralyzing to its democracy as the recent protests have become to traffic on Sukhumvit Boulevard.
The opposition Democrat Party, if they even bother to stand for the election which is doubtful, has been offering nothing short of a return to the neoliberal framework that caused the present divisions along class lines. Throw in the uncertainty of a frail and again monarch, and a separatist insurgency still ongoing in the south of the country, and one can adduce that Thailand's stability seems to be just as tenuous as Cambodia's.
In Myanmar, the ongoing genocide of ethnic Rohingya Muslims has only gotten lip service in the mainstream media. Additionally, there are reasons to be highly disturbed by the failure of U.S. President Barack Obama to bring it up to Burmese President Thein Sein when the two met last November, and the silence of the country's democracy icon, and now parliamentarian Aung San Suu Kyi. With the latter planning to contest national elections scheduled for 2015, and with most Buddhist Burmese raising no objections to — indeed with many approving of — the liquidation of Rohingya, there seems little that will be done to prevent the endgame. One would expect more from Ms. Suu Kyi, and her silence must be taken as assent.
In Laos, a country which has not evolved much from the Cold War era, people who ruffle the communist government's feathers simply disappear. Such was the case for environmental activist Sombath Somphone who vanished off a Vientiane street last December and has not been heard from since.
And finally, there was the disastrous typhoon in the Philippines which killed thousands and will cost hundreds of millions. Entire towns and villages were literally swept away, livelihoods destroyed. The government of President Benigno Aquino III, hitherto embroiled in one of many graft scandals, has been largely ineffective in distributing aid to survivors. The storm, the fourth most powerful ever recorded to have made landfall, also highlighted the impotence of the international community to deal rationally with the issue of climate change.
All in all, it was a rather depressing year for the region as far as respect for human rights, human dignity, and basic freedoms were concerned. I was able to spend the summer months in Cambodia covering the electoral victory of the CPP, which was marred by myriad irregularities. I will be back in Phnom Penh this upcoming May to hopefully do some on-the-ground reporting and a follow-up to many of these stories.
Photo (above): Sreng Meng Srun / Phnom Penh Post