Deadly Day of Protests in Cambodia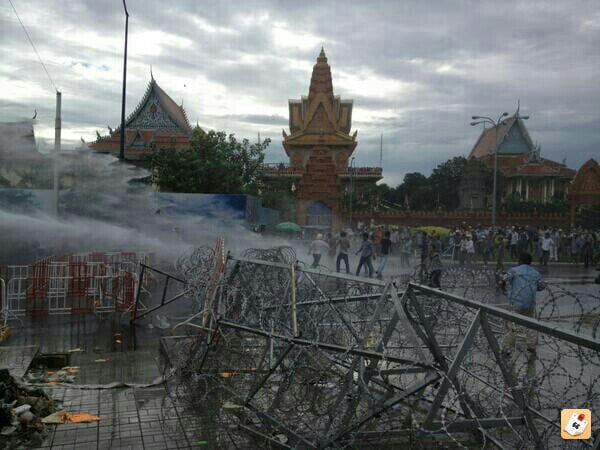 One person was killed and several others were injured after a day of protests in Cambodia turned deadly Sunday night. Mao Chan, 29, was shot in the head and pronounced dead at the scene of Monivong Bridge when a faction of demonstrators confronted military police who had spent most of the day shooting smoke grenades and blasting water canons at the protesters throughout different parts of Phnom Penh.
The protesters were supporters of the opposition Cambodian National Rescue Party (CNRP) whose political leaders have rejected July's National Assembly election results which returned the ruling Cambodian People's Party (CPP) to power albeit with a slimmer majority. Independent organizations, including the New York-based Human Rights Watch, have asserted that the election had been marred by many irregularities and was not adduced to be free or fair.
Sporadic protests have been organized over the past month and half in the capital city's Freedom Park by CNRP leaders with the official aim to demand a probe into electoral frauds. CNRP head Sam Rainsy has appealed to supporters to rally peacefully and abide with municipal regulations at these protests.
Cambodian Prime Minister Hun Sen has never been shy about cracking down on dissent or opposition power plays. Throughout the course of his 28 years in power, the leader of the CPP has survived a civil war, a flawed and failed power-sharing coalition with the monarchy, and now, so far, an aggressive push by the country's legitimate opposition party.
CNRP supporters cite corruption, wealth inequality, and land grabs as the primary reasons for such hostile and overt dissatisfaction with the CPP. The ruling party has run the country's affairs since the disastrous end of the ultra-Maoist Khmer Rouge era and subsequent Vietnamese occupation.
Hun Sen was installed as the premier of the People's Republic of Kampuchea by Hanoi, a historical fact which has been a constant theme of Sam Rainsy's platform over the years. At times, this platform has been manifested in xenophobic, anti-Vietnamese rhetoric including an international incident at the border in 2009 which led to Rainsy's self-imposed exile to France.
The status of Vietnamese-Cambodians is likely to be a key issue worth watching going forward. CNRP distrust of the Vietnamese is acute, and some observers have suggested they could become targets for acts of violence.
The deceased Mr. Mao was a father of four, according to his wife. He was the only confirmed fatality of the evening, but videos uploaded to social media networks showed several other apparent demonstrators seriously wounded.
As of 3 a.m. local time, only the rain could be heard splashing down on the Sisowath Quay riverside road. The Tonle Bassac River, which hours before had had barricades of barbed wire dumped into it by enraged protesters, appeared calm other than being dotted by raindrops coming down like shimmering knives from the sky. It was the end of a very long and very tragic day in Cambodia but, in all likelihood, the beginning of something much bigger.
Photo: Khmer440.com